Our Stories
Alberto Melendez, RN
Our Stories: Calvary Nurses
Our Stories: Social Workers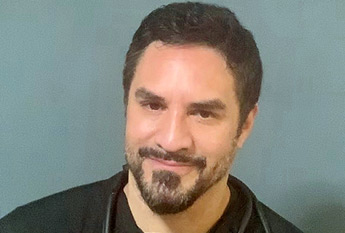 "I bring my skills and years of experience to my patients and use them to enhance their final days. I can help comfort them, reduce their suffering as well as manage their symptoms as much as possible."
Q: How long have you worked for Calvary@Home?
A: I have worked for Calvary for three years. It took me several attempts to get in. This was a good sign because that told me people were committed to working there long-term. I kept trying to get in and eventually, I was successful.
Q: Did you always want to work as a hospice nurse or was this a career transition?
A: I was working per diem as a medical-surgical nurse when I got a per diem assignment at a hospice inpatient unit.
I worked with the manager initially and I shared that I didn't think I wanted to work in hospice long term. Over time I discovered that this type of nursing is so different and rewarding for me. I then asked to be assigned more shifts and worked per diem for eight years before signing on full time.
My original career aspiration was to work for the NYPD as a police officer. I chose nursing because I wanted to help people and make a difference.
Q: What is like to be a hospice nurse at CH?
A: It's incredible because everything I ever learned at inpatient units and in the hospital, I brought to my work at Calvary.
I bring my skills and years of experience to my patients and use them to enhance their final days. I can help comfort them, reduce their suffering as well as manage their symptoms as much as possible.
The patients must experience a quality of life before they die. I can connect with the patients and their families in a way that I would never be able to do in the hospital.
Q: How has the care changed with COVID19?
A: We wear enough PPE to protect ourselves, the patients and their families.
Of course, there is fear for us all during this pandemic, but my primary concern remains will always be the safety of patients and their family.
Patients must know they are cared for. With all of the restrictions in place, I have had to develop new ways to connect with family members and patients with words and body language.
I used to use touch a lot in my practice but I can't do that now. Building trust is a little more challenging but I make it a priority. I also speak more to family members on the phone versus in person because they too are compromised. My families are relying on me to be their eyes and ears so communication has become more critical.
Q: Could you share a patient story?
A: A couple of weeks ago, I had a patient with COVID19 who was in a nursing home. She desperately wanted to die at home and her son wanted that for her as well. He was also COVID19 positive so he couldn't visit her. His mom expressed that she wanted to be surrounded by the things that she worked so many years to acquire. Fortunately, we were able to provide her with Calvary@Home care.
Once she was in her bed, the patient became relaxed. Although she knew she was terminal and experiencing pain, the pure joy from being at home was better than any pain relief I could ever provide.
Her son thanked me and said to me that he has peace now because his mom is finally at home.
What inspires you to continue to work during this crisis?
A:Dying is sacred and I am helping people during this time regardless of their current situation.
Several weeks ago, I lost my brother-in-law to COVID19 and I couldn't be there for him. I want to be there for my patients and their families and that is what motivates me the most daily.