Our Stories
Alexandra Desbas, RN
Our Stories: Calvary Nurses
Alexandra Desbas, RN, Calvary@Home

Director of Outreach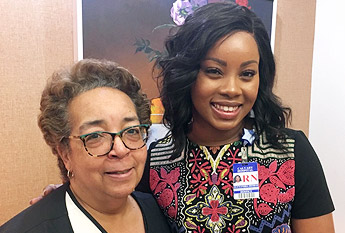 "I grew up in a household with medical professionals. My mom learned hospice at Calvary… what makes her a great hospice nurse, comes from Calvary."
Q: What inspired you to become a nurse?
A: I grew up in a household with medical professionals. Mom is a nurse and my dad is a physician. Initially, I wanted to be a doctor, but my dad told me, "You'll never have time for your family," so I veered away from that and went to business school. I wanted to be different.
But after I got into the field, I realized I didn't feel any kind of fulfillment in what I was doing. I was just sitting behind a desk, not really making a difference. Meanwhile, my family was coming home with all these great stories about their interactions with people. It started turning the wheels in my head. But what really convinced me was when my aunt was diagnosed with terminal breast cancer. She was like a second mom for me.
She moved in with my parents and me, and we took care of her right up until the end. That was the catalyst for me to consider nursing school. A couple of months after she passed away, I started doing my prerequisite—and that was it; no turning back.
Q: What brought you to Calvary?
A: My mom learned hospice at Calvary. She was here for about two years. At the time I was in business school over at Fordham. She had the best things to say about Calvary. "These are the people that do it well," she said. Everything mom knows inside and out, and what makes her a great hospice nurse, comes from Calvary.
For me, the opportunity to work at Calvary appeared at just the right time. I was living in California for about a year and a half, and I was looking to come back home when the nursing position popped up. I knew it was one of those things that was meant to be.
Q: Why did you decide to care for people at the end of life?
A: I was that person who was afraid of death. Period. I started my career in the ER and then worked in neurosurgery. Even though I was a nurse for six years, death used to freak me out. Now I have a completely different outlook. I don't look at death the same way. When I walk into Calvary, it's peaceful. The environment is friendly.
Honestly, I wasn't sure what to expect from working here and I was pleasantly surprised. This place isn't about the numbers; it's about giving people the best possible experience at the end of their lives. I would much rather give one person a really good experience than get 10 people on board just for the numbers. I think that's really the essence of what Calvary stands for.
It takes a very particular type of person to do this work. Everybody wants to heal and be a hero. Here, it's an opportunity for us to be a different kind of hero. We don't "save the day" in terms of healing our patients, but we can remove that sting from the word death and provide a good transition for our patients. As long as a person is in our care, I want it to be the most amazing experience. That's what good healthcare should be.
Q: Describe the most memorable experience you ever had with a patient or family member at Calvary.
A: I have one that's current actually. She's an elderly woman and her daughter died at 10-years old. She only has her long-time boyfriend and he lives way out in Wantagh. She wanted to come to Calvary because she knew about the hospital but her boyfriend didn't know how he was going to get her here. They were so scared. So we helped arrange for her to go to a nursing home closer to home that we're working with.
I visit with her all the time. She really doesn't have too many people that she looks forward to seeing. The first day that I met her, she held my hand and said, "Will you come and visit me, when I come to the hospital?"
I said, "Are you kidding me? My office is across the street! Of course."
She said, "Would you bring pizza?"
I said, "That is my favorite food! Yes, I will bring you some pizza."
And I did bring her pizza. These are the moments that really make me enjoy doing what I do.
Q: What qualities are essential to be a Calvary nurse?
A: I think it's very important for all of us—not just nurses, but also social workers and everyone who comes in contact with terminally ill people—to examine our own awareness of what we're bringing forth.
We need to take time to get to know the patients, appreciate their position, and remember that little things can make a difference. Even the smallest details can go a long way, like knowing if someone enjoys a certain kind of juice and making sure they have it on their lunch tray every day. It's our job to slow down a little bit, to be mindful and bring humanity back to healthcare.