Our Stories
Juliet Sternberg, LMSW
Our Stories: Calvary Nurses
Our Stories: Social Workers
Juliet Sternberg, LMSW, Calvary@Home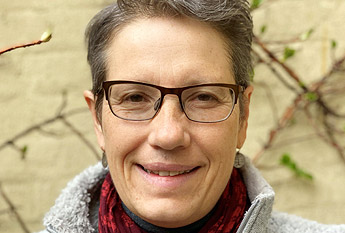 "What sets Calvary apart is the glorious lack of a cookie cutter approach to palliative care, that each person is treated according to their individual needs. I love that about us!"
Q: What inspired you to become a social worker?
A: I'm originally from London. I moved to the USA in 1989 to work at a Lutheran retreat center in Washington state. The experience of living closely with others persuaded me of the power of empathy and of the human spirit to nurture and heal one another. It was this experience that attracted me to seek a job in social services.
Q: Why did you decide to work with people at the end of life?
A: I moved to New York City in 1992 and worked for eight years as case manager for a Bronx-based Community Service agency serving mentally-ill adults. Halfway through my MSW degree, I felt drawn to working with older people.
So I took a case management position for a Manhattan social services agency for homebound elderly people. It was my first direct experience with people at their end of life and I loved it. Their life stories and determination to remain independent despite being homebound and socially isolated were incredibly inspirational.
After I graduated with my MSW in 2002, my spouse – a veterinarian – and I started a veterinary clinic focused on the human-animal bond. It was here that I honed my skills of working with those caring for sick family members.
We actually started one of the very first home "hospice" program for pets, supporting people who were providing palliative care for their pets during the last phase of their lives. I also ran a weekly pet bereavement support group. I found that the bereavement issues are incredibly similar to those faced by families that we care for at Calvary.
Q: What attracted you to Calvary Hospice?
A: My first experience with Calvary Hospice was in 2005. My in-laws had lived with us for 3 years and both died within 5 weeks under the incredible care of our Calvary Hospice nurse and social worker.
I was so impressed with the genuine compassionate and professional care provided to my in-laws as patients and to us as family. I always thought if the opportunity ever presented itself, I would love the chance to work for Calvary@Home. I started with Calvary in September 2018.
Q: What qualities are essential to being a Calvary social worker?
A: You need to have a high level of compassion, empathy, integrity and commitment to each person and family as an individual. These qualities are displayed by every Calvary team member I encounter! I never get the feeling that this is "just a job," for anyone on the team, and for that, I am immensely grateful.
Q: Please describe a memorable story or encounter with a patient or family.
A: It's hard to pick just one or two examples and literally each and every encounter with a patient and family leaves an impression on me. I carry their memories with me to each new encounter. As corny as it may sound, it feels like a sincere privilege to get to know people at this time of life, providing empathy and caring, however long or short the relationship.
I find that people facing the end of their lives more inclined to be more like their "real" selves. Susan was one of those people—a recently retired 67-year-old she had been looking forward to a rich retirement after a brilliant career, but was instead facing an abbreviated, cancer-ridden end of life.
Rather than being depressed, over the course of several weeks of deep conversations, Susan was reflective about her achievements, philosophical about her relationships, and curious about what was to come: about heaven, what it might be like and about who she might meet or see again.
Susan's willingness to be fully present to her end-of-life experience and her spirit of optimism in the face of suffering was profoundly inspirational to me.
Q: What are the rewards and challenges of being a social worker?
A: The rewards are getting the chance to get to know a broad array of people of every color, religion, cultural origin, belief system and more—it's like the greatest sociological/anthropological/ spiritual experience one could possibly wish for. This has greatly enhanced my life.
There are days when giving one's all can be intense and tiring, and learning to switch off at the end of a day is probably one of the biggest challenges that many if not most social workers face.
Q: Describe what CalvaryCare® means to you.
A: CalvaryCare® is the embodiment of compassion, empathy, integrity and attention to each individual as an individual.
What sets Calvary apart is the glorious lack of a cookie-cutter approach to palliative care, that each person is treated according to their individual needs. I love that about us!