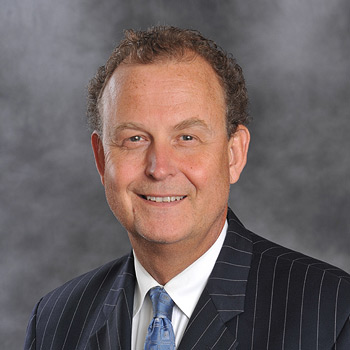 Christopher P. Comfort, MD
Chief Operating Officer
Christopher P. Comfort, MD joined Calvary Hospital as Medical Director in 1999. In July 2019, he was promoted to Chief Operating Officer. Dr. Comfort has administrative oversight for Calvary's $137 million operating budget covering their 200-bed Bronx campus, 25-bed Brooklyn campus, as well as its relationships with The Dawn Greene Hospice at Mary Manning Walsh in Manhattan and Ozanam Hall of Queens Nursing Home in Bayside.
Dr. Comfort has been a physician for more than 37 years. Prior to Calvary, he practiced general and geriatric medicine in the Bronx, NY. Dr. Comfort has been an Attending Physician at numerous hospitals in New York including Bronx Municipal Hospital Center, Morningside Nursing Facility, and Montefiore Medical Center. He is currently on staff at NYU Langone, NewYork-Presbyterian/Columbia and New York Presbyterian/Weill Cornell Medical Center. In addition, he serves as a consultant at Archcare at Mary Manning Walsh and Ozanam Hall of Queens Nursing Home.
In 1985, Dr. Comfort received the Leo Davidoff Award for Teaching Excellence and is active in the Albert Einstein College of Medicine Mentorship Program. He has been a consultant to several major health insurance companies and is a frequent speaker at programs for community groups as well as medical professionals.
Dr. Comfort graduated from Loyola Marymount University in Los Angeles, California and the St. Louis University School of Medicine. He completed an Internship and Residency at Bronx Municipal Hospital Center and is board certified in Internal Medicine (1987) and Geriatrics (1995). Dr. Comfort was a member of the Metropolitan Physicians Practice Association where he served as Secretary, Vice-President, and President. He resides in Westchester County, NY.