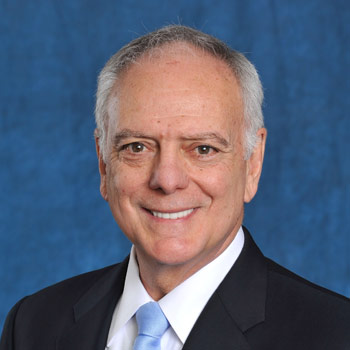 Frank A. Calamari, FACHE
President and Chief Executive Officer of Calvary Hospital Inc.
Mr. Frank A. Calamari has been the President and Chief Executive Officer of Calvary Hospital Inc. since 1986. He is also President of the Calvary Fund, an independent, not-for-profit development organization.
Under Mr. Calamari's leadership, the Hospital has:
taken its signature care successfully into home settings with Calvary@Home
opened a 25-bed acute unit at their Brooklyn Campus (NYU Langone)
established The Dawn Greene Hospice, an 18-bed unit, at Mary Manning Walsh Home in Manhattan
opened a 6-bed Hospice unit within Ozanam Hall of Queens Nursing Home
strengthened Calvary's international reputation as the pre-eminent end-of-life care hospital
Mr. Calamari started his health care career as a Community Health Associate at St. Vincent's Hospital and Medical Center in New York. He then joined the NYC Health + Hospitals Corporation and rose through the ranks at Jacobi Medical Center to become Deputy Executive Director/Chief Operating Officer.
Mr. Calamari has been honored by the New York Business Group on Health with its annual Leon J. Warshaw Leadership in Health Award to recognize his extraordinary service, leadership, and commitment to making health care available and affordable to everyone who lives and works in New York.
Mr. Calamari was a faculty member of the Graduate Program in Health Care Administration of Baruch College-Mount Sinai School of Medicine and New York University's Graduate Program in Health Planning, Policy, and Administration. He is a member of the American Hospital Association and a fellow of the American College of Healthcare Executives (FACHE). Mr. Calamari also serves on the Board of Managers for Arch Care Advantage and Arch Care Senior Life, and formerly on the Board of Governors of the Greater New York Hospital Association.
Mr. Calamari obtained an MBA degree in health care administration from the Baruch College-Mount Sinai School of Medicine at City University of New York.
Publications