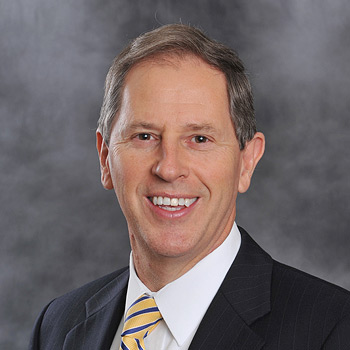 John A. Grom, RPh, MS, MBA
Assistant Administrator, Campus Hospital Development, Director of Pharmacy
John A. Grom has been with Calvary Hospital since 1986. During his tenure at Calvary, Mr. Grom has taken on numerous roles including the administration of nine clinical and support departments, overseeing the organization's regulatory compliance, facility planning and construction, as well as multiple special projects. Mr. Grom was instrumental in the design, construction, development, and implementation of operations at our Brooklyn Campus, on time and under budget.
As the Director of Pharmacy, Mr. Grom manages the hospital's day to day medication management functions. He oversees the medication management systems to ensure that they are safe and effective. These systems are designed to result in the appropriate selection, acquisition, storage, prescribing, preparation, dispensing, administration, and monitoring of all medications throughout the organization. Mr. Grom has overseen the selection and implementation of fully electronic and automated medication management systems, including electronic prescribing, automated dispensing, and bedside bar-code verification of medications. Mr. Grom has also spearheaded a successful multi-year program, in cooperation with the Calvary medical staff, to monitor and significantly reduce medication expenditures.
During his career at Calvary Hospital, in addition to overseeing multiple clinical and support departments within the organization as part of his role as Assistant Administrator for Clinical Support Services, Mr. Grom has also served in the role of Joint Commission survey coordinator and has overseen general regulatory compliance for many years.
Prior to his tenure at Calvary, Mr. Grom completed a Residency in Hospital Pharmacy Administration at Montefiore Medical Center. Subsequent to his Residency, Mr. Grom also worked at Beth Israel Medical Center and Booth Memorial Medical Center, both in New York.
Mr. Grom is a Registered Pharmacist in New York State and from Long Island University with a Bachelor of Science degree in Pharmacy. Mr. Grom also obtained a Master of Science degree in Hospital Administration from St. John's University, as well as a Master of Business Administration degree specializing in Human Resources from Pace University. Mr. Grom also completed an Executive Management Program at The University of Pennsylvania. Mr. Grom has served on the Board of the Westchester County Society of Hospital Pharmacists for many years as well as Committees of the New York State Council of Health-system Pharmacists. He resides in Pleasantville, NY.