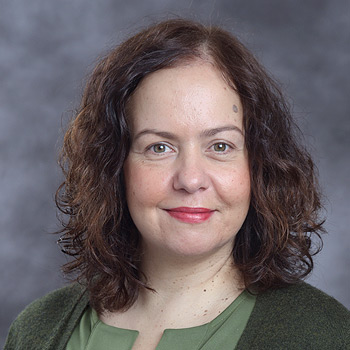 Maria Georgopoulos
Director
Bereavement Services
Maria Georgopoulos was promoted to Director of the Bereavement Services Department in January 2018. She is responsible for 24 bereavement support groups in the Bronx, Brooklyn and Manhattan that serve hundreds of adults, children and teenagers each year; leads a team of 10 bereavement counselors, all of whom have Master's Degrees or the equivalent; and spearheads Calvary's efforts to expand the Hospital's professional learning programs in the New York area.
Ms. Georgopoulos first worked for Calvary from 2005 to 2010, and then returned in 2014. She has led Precious Moments, Calvary's support groups for children ages 6-12, the teen support groups, our adult support groups and played an integral role in Calvary's Camp Compass®, a unique summer bereavement day camp that takes place at Kingsborough College each year.
Prior to Calvary, Ms. Georgopoulos worked in the mental health profession in other settings including The American Red Cross of Greater New York as a Caseworker after 9/11, at The Jewish Board of Family and Children's Services as a Case Manager and as Program Director with NHS during her time living in New Orleans. Her professional certifications include a Fellow in Thanatology with The Association for Death Education and Counseling (2005) and she is a member of ADEC's credentialing committee.
Ms. Georgopoulos is active in various professional teaching activities. These include the Annual Bereavement Course with Calvary Hospital and as Adjunct Faculty with The College of New Rochelle teaching courses in Mental Health Counseling such as Group Counseling and Mental Health Counseling Internship Practicum.
In addition to her work in bereavement, Ms. Georgopoulos is also a licensed mental health counselor with a private practice, has led many professional workshops related to the bereavement needs of children, adolescents and adults; provided counseling for diverse populations of people with varying difficulties; has been published in various outlets; and actively provides home visits to Calvary Hospice families who are at risk for complicated grief.
Ms. Georgopoulos graduated from New York University's Steinhardt School of Culture, Education and Human Development with a Master's in Mental Health Counseling and received her Bachelor's degree from St. John's University with a major in psychology. She also received additional clinical training through The Institute for Contemporary Psychotherapy's Psychoanalytic Training program and The Sensorimotor Psychotherapy Institute. Ms. Georgopoulos is bilingual, fluent in Greek and resides in Queens, NY.