Nancy S. D'Agostino RN, MSN, CHPN
Vice President of Community Patient Services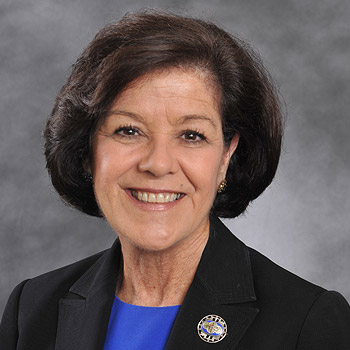 Nancy S. D'Agostino, RN, MSN, CHPN
Vice President of Community Patient Services
Nancy S. D'Agostino is Vice President of Community Patient Services. She is responsible for Calvary@Home, the Hospital's comprehensive home care and hospice care for adult patients suffering from advanced cancer and other life-limiting illnesses. Her accomplishments to date include:
Creating and expanding Calvary@Home throughout the greater New York area;
Creating the model of hospice care at The Dawn Greene Hospice (18-beds) located at Mary Manning Walsh Home in Manhattan and at Ozanam Hall of Queens Nursing Home in Bayside, Queens;
Helping to bring in significant grants from leading funders including The Altman Foundation and The Fan Fox and Leslie R. Samuels Foundation; and
Getting Calvary @Home recognized by IPRO for innovative care.
Ms. D'Agostino joined the nursing staff of Calvary Hospital in 1981. During her tenure, Ms. D'Agostino has provided care to inpatients at the Bronx campus, helped start our Certified Home Health Agency (1985) and Home Hospice (1998) program, and was instrumental in the formation of Calvary@Home (2002). Under her direction, Calvary@Home has experienced unprecedented growth in all areas, especially over the past five years.
Calvary@Home offers hospice care in hundreds of private homes, assisted living facilities, and more than 25 select nursing facilities, throughout the New York City and in Nassau, Westchester, and Rockland Counties. It also provides short-term inpatient care at The Dawn Greene Hospice, Ozanam Hall of Queens Nursing Home and all campuses of the New York Presbyterian system.
Ms. D'Agostino is a prolific author and sought-after presenter at healthcare industry conferences. She has been active in groups such as the American Nurses Association and Oncology Nursing Society. She graduated from Mount Saint Mary College (NY) and Seton Hall University (NJ). Ms. D'Agostino has been on the faculty at Columbia University and the City University of New York. She resides in Long Island, NY.