Our Stories
Melissa Prince, RN
Our Stories: Calvary Nurses
Melissa Prince, RN, Calvary@Home

Case Manager in the Community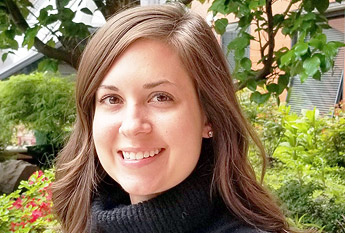 "I'm always aware that family members and patients are dealing with a very tough and emotional situation. My primary concern is that I do whatever I can to help. My mantra is that… every day is a good day!"
Q: What inspired you to become a nurse?
A: When I was young girl, I wanted to become a doctor. Then in high school, we were going through a recession, and I started to think about a career that would provide me long-term security.
I didn't have any sisters, only older brothers. The girlfriend of one brother was going to nursing school and I looked up to her. She was my role model. Her actions set me on my path to becoming a nurse.
This is the profession I fell in love with and that I believed would provide me with many opportunities. I grew up in a fairly normal household but we didn't have a lot of money so this made the most sense.
Q: Why did you decide to care for people at the end of life?
A: I had been working at a community hospital for a year when a friend of mine who worked in hospice told me about an opportunity in her field. I didn't know much about hospice at the time but I took a leap of faith and found my passion in the nursing home health and hospice arena.
Q: What specifically brought you to Calvary?
A: I had worked at several hospice agencies in Virginia and D.C. Then my husband found a new position in NY and we decided to move here. I saw a job listing for Calvary and was impressed with the recruiters. I didn't know anything about Calvary at the time but was amazed at what they were doing for end-of-life care. It was so unique.
Q: What is your mantra?
A: My mantra is that every day is a new day and every day is a good day!
Q: What qualities are essential to be a Calvary nurse?
A: You have to be very open-minded. You might be going into the home of a patient who is affluent or the patient might be living in reduced circumstances. It is important that you mold yourself to their environment and that you be very flexible with your approach, how you present yourself, and how you communicate.
I learn new things every day when I go into the community and interact with patients and families. When I meet a new patient, I assess the environment and observe what is needed. I want the patient to be comfortable and safe. I listen to the requests as well as grievances of the family, and I do everything I can to provide them with the best care.
Every patient situation is different. It's case by case. Whenever I assess the caregivers, be they professional or family, I gauge the knowledge deficits and gather a base understanding of where they're at from a medical perspective. And I also need to juggle multiple personalities and work within different environments.
I'm always aware that family members and patients are dealing with a very tough and emotional situation. My primary concern is that I do whatever I can to help. I will also reach out to my colleagues for assistance. I know that I can pick up my phone and reach out to a social worker for help assessing a situation. I never feel alone when I'm on the job. I know my team will be responsive not only to my calls but to the family's as well, for any situation.
You have to be sincere in all you do. You must have a kind demeanor and be very patient. My patience has improved over the years since I've worked in hospice, and I have learned to listen before I speak.
Q: Describe the most memorable experience you ever had with a patient or family member at Calvary.
A: There was a family living in Alphabet City. This was one of my earliest cases and I remember spending a lot of time listening to this family and hearing their concerns. I did my best to answer all of their questions, and if I didn't have the answers, I researched them by reaching out to the team (doctor, social worker, chaplain, etc.). By the end of the visit, the family was so thankful that I was there and showed me a lot of gratitude for the time I spent with them.
The patient was ill but primarily needed medication management. His wife was experiencing poor short-term memory. She needed guidance and education so I spent time with her going through medication and reviewing the safety measures needed in the home. I also listened to her concerns. By the end of the visit, she asked for a hug. I hugged her and she told me how thankful she was for my presence and help.