Our Stories
Ora Rolle, RN
Our Stories: Calvary Nurses
Our Stories: Social Workers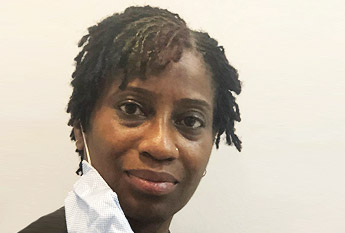 "As a hospice nurse, I am honored to help bring peace and dignity to the end-of-life experience through my care of patients and their families."
Q: What inspired you to become a nurse?
A: My decision to become a nurse was rooted in my desire to help others. At one point, I questioned my decision and felt like I was not making a difference.
After I took care of a very sick patient who died, her family told me, "Thank you, we really appreciated everything you did." They gave me an angel figurine. That was over 20 years ago and I still have the angel.
My mother, who had studied to become a nurse but never had the opportunity to practice, told me, "You can be anything you want to be."
Q: What brought you to Calvary initially?
A: More than 15 years ago, one of my former supervisors had end-of-life care at Calvary. When I visited her, I was so impressed with the excellent care she was receiving. She was not afraid or in pain. In fact, she was up walking around laughing and as always, advising me. She died with dignity, in peace and pain-free. I vowed to myself, "I will work here someday."
My daughter, Brandie Rolle, also works for Calvary as a hospice nurse. She arrived first and encouraged me to apply.
Q: What kinds of nursing have you done before coming here?
A: I have come full circle. I've worked OB/GYN, Pediatrics, Med-Surg, Adult ED, Peds ED, and now Hospice. I've seen the beginning of life and now the end of life!
Q: Why did you decide to work with patients at the end of life?
A: The end of life should not be the "worst experience" for patients or loved ones. I feel the work we do bring peace and dignity to this experience. Many patient family members say, "I don't know what I would have done without Calvary." I am honored to care for the patient, the family, and to represent Calvary.
Q: Describe a memorable experience you had with a patient or a family member here.
A: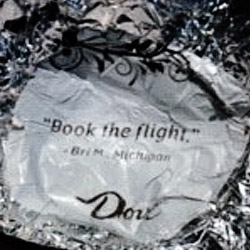 In 2019, I had the privilege of caring for JM, a 29 year old young woman. (Twenty years prior, her mother received end-of-life care in Calvary Hospital).
JM often thanked me for treating her like "an adult." We had many days of "girl talk."  I would do my "nurse visit" and then spend time just socializing with her, laughing and talking. She often complimented me on my purple hair and wished she could have purple hair.
One day, I arrived with purple hair wax. At the end of the visit, she had purple hair! She was so happy she kept saying, "Who's cute?" followed by "We are!" She was so delighted, stating, "I'm a mini Ora." Two weeks later, she died, with her beautiful purple hair. JM's aunt, who was her primary caregiver, said, "Thank you for taking care of her" and "Thank you for being her friend."
Here is a strange but true story: JM loved Dove mini candy bars (she would always have some waiting for me). I never realized they had messages in the wrapper. Following JM's death, I felt the need to get away. I was trying to decide if I wanted to go to Cuba. I found a Dove candy bar in my bag (given to me by JM.) Upon opening the candy, I saw it had a message inside, and it said, "Book the Flight." I smiled and booked my flight. JM gave me so much; I will never forget her.
Q: What qualities are essential to being a Calvary nurse?
A: Compassion and knowledge. The ability to laugh and cry with patients and caregivers. The ability to advocate for your patients. The skills to be a team player because you cannot do this job alone.
Social workers, spiritual counselors, office assistants, home health aides, and supervisors all make up this remarkable team. (If I forgot any part of the team, charge my head and not my heart.) Big Shout Out to all Nurses, especially The Bronx Yellow Team!