Our Stories
Lorraine Braun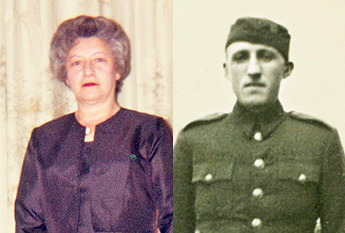 Benjamin and Irene Braun
Both of my parents, Benjamin and Irene Braun were patients at Calvary Hospice in 1992.
Living at home, I was their caretaker with the help of my two aunts who lived nearby. I continued to work full time.
I hope my family's story about Calvary Hospice can help others learn about the type of care Calvary provides.
My father came from Europe in 1926, working as a butcher, supporting his family, being a homeowner for the first time–he lived his dream. He was a family man and a hard worker. His love for his family was evident in everything he did.
By 1951, my parents owned a home with a nice big backyard where we enjoyed many great barbeques and quality time together with fellow neighbors and loved ones. I can remember my father planting flowers and the pride he took in his tomato and vegetable crop in the summer.
Benjamin, my father had a quiet personality that was complimented by my mother's independent nature. Ahead of her time, my mother was not only the head of the household but also in charge of the family's checkbook. It sounds commonplace today, but back then the mutually respectful relationship my parents shared was not the norm. As a young woman growing up, I observed early on how my mother, an independent woman had my father's complete trust and respect.
My mother Irene ran the household, a fulltime job and then some… Later she became a Red Cross volunteer serving for over 30 years. She loved to be with children and was able to spend much of her time with them in her work in Elmhurst Hospital's pediatric trauma unit.
In November 1991, my dad was diagnosed with bone cancer. After one radiation treatment, he said "no more". He was admitted to Long Island Jewish Hospital and a few days later to Calvary. On my first visit to Calvary, I saw care and compassion in practice. I found care that was both kind and understanding happening 24/7.
In January 1992, my father passed away after having lived his final days in peace and comfort.
My mother always a strong woman born with a natural fortitude and resilient spirit was diagnosed with ovarian cancer that same year. She took her chemo treatments in stride. Her personality always shining. When we went to buy a wig, not being a vain woman by any stretch she was able to find amusement in the process. During her time at home, of course, she was able to do less, but kept a stiff upper lip!
In July 1992 we were back at Calvary for just three days before she passed. On her headstone, I have inscribed "Your Strength and Courage is Everlasting". They are with me in spirit daily. Today I wear my mother's watch, a gift from me to her years ago.
I feel your care was another gift I was able to give my mother and father.
"Calvary's miraculous end-of-life care eliminated my parents' physical pain and our family's emotional pain."
When it came time to say 'thank you' I became a member of Calvary's Society of 1899 to support the Hospital's important work. So in honor of the two people who taught me the valuable lesson of sacrifice, I am proud to give back to Calvary for the gift they gave to my parents: a quality of life.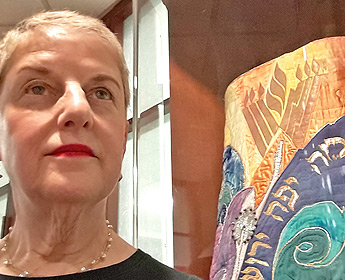 Dear Calvary Hospital,
My father, Benjamin, and mother, Irene, sacrificed everything for me.
They were life-givers in the truest sense of the word. Mom volunteered in the Pediatric Trauma Unit at a major city hospital for 30 years. It was only natural that in their final days – just six months apart – Calvary Hospital was there to care for them, as they do for so many families. Their cancer pain was relieved, as was our emotional pain.
The compassion and care were unparalleled. The calmness and immaculate setting, peaceful and serene. During their end-of-life, they received a spirit of living that I will remember forever.
My "thank you" to Calvary are regular charitable gifts to support the Hospital's important work.
Sincerely,
Lorraine Braun