Our Stories
Kim Cavallito, FNP-BC, PSM
Our Stories: Calvary Nurses
Our Stories: Social Workers
Kim Cavallito, FNP-BC, PSM
NP for Inpatient Wound Care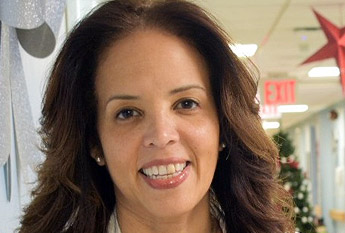 "One of the greatest gifts we can give someone is the ability to die with dignity and grace."
Q: What inspired you initially to become a nurse?
A: I initially graduated with a Bachelor's degree in Psychology. After working for several years, I felt a void in my career so I made the decision to go back to school to obtain a degree in nursing. I always had a passion for health care and I decided that I would be happier providing hands-on-care for patients.
Q: What brought you to Calvary initially?
A: I was born and raised in the Bronx, not too far from the hospital. When I was 12 years old, my aunt was transferred to Calvary for end-of-life care. I remember vividly how much of a toll her illness had on my family members and the wonderful care we all received. I truly believe it's what eventually brought me back here years later.
Q: Tell us what it's like to work with wound care patients.
A: Working with wound care patients can be challenging, yet rewarding at times. If you can heal a patient's wound, you make a tremendous impact improving their quality of life. When caring for patients with chronic wounds who are terminally ill, the goals of care are to reduce the risk factors that impair wound healing.
Q: Why did you decide to work with patients at the end of life?
A: Initially in my nursing career, I worked on an oncology unit. During that time, I witnessed a great deal of suffering in patients during their final days of life. That experience allowed me to reflect on the care that we give patients. I firmly believe that one of the greatest gifts we can give someone is the ability to die with dignity and grace.
Q: If you speak another language, how has that helped you with patients and families?
A: Being fluent in English and Spanish has been a tremendous help with patients and families. It is frightening to be alone in a hospital with someone who cannot understand you. Being able to speak to a patient or family member in Spanish provides the patient with a sense of security and comfort at a time when they are most vulnerable.
Q: Describe a memorable experience you had with a patient or a family member here.
A: Several years ago we had a young patient admitted who was recently paralyzed with multiple large wounds.
When he first arrived, this patient barely spoke and made no eye contact with me or the wound team. He spent a long time at Calvary. As time passed, his wounds began to improve. As his wounds got smaller, the patient's overall demeanor began to change as well. He began talking to us and would even ask for us to come to the unit. The patient became cheerful and grateful for all the care that he received.
We were all so excited when he was discharged from Calvary and went back home with his family with no open wounds.
Q: What qualities are essential to being a Calvary nurse?
A: Essential qualities of being a Calvary nurse are compassion, kindness, understanding and empathy. I have a quote in my office that states "a kind gesture can reach a wound that only compassion can heal."