Our Stories
Shelly Nakagawa, RN
Our Stories: Calvary Nurses
Our Stories: Social Workers
Shelly Nakagawa, RN, Calvary@Home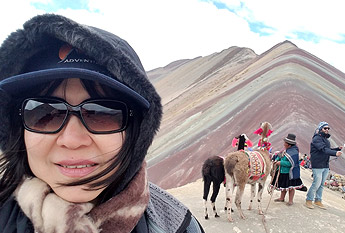 "I love caring for people at all stages of life… End of life is very important to me because it is a celebration of our life journey."
Q: What inspired you to become a nurse?
A: Although my mother wanted me to become a nurse after high school, my goals were to be a writer and a pianist. After my mother's long illness and I couldn't help her, I felt the need to fulfill a filial piety. I soon discovered my love of being a nurse and caring for people. So you see, mother does know best.
Q: What kind of healthcare did you do before Calvary?
A: I worked at an acute rehab and skilled nursing home. I also did pediatric home care.
Q: Why did you decide to care for people at the end of life?
A: I love caring for people at all stages of life. I was a pre-school teacher for more than 15 years so I assumed I would work as a pediatric nurse. I didn't choose to be a hospice nurse. After I became a registered nurse, my very first patient was a terminally ill man. I was his private nurse. That experience made me realize this type of work was right for me.
Q: What specifically brought you to Calvary?
A: I had applied for a position in another hospital. Somehow people keep mentioning Calvary to me so I finally contacted this hospital. I'm so glad I did. I am grateful to be working here.
Q: Have you ever had a friend or family member treated here?
A: No.
Q: What has the experience been like since you began working for Calvary as a nurse?
A: Being a hospice nurse has enriched my life in so many ways. Every person I meet shares their wisdom and their own life story. I learn from my patients every day. They teach me how to be more grateful and happy and to appreciate the simple things in life.
Calvary means life to me. I get to do meaningful work every day and connect to people of all backgrounds. End of life is very important to me because it is a celebration of our life journey full of love, happiness and achievements.
Q: Describe the most memorable experience you ever had with a patient or family member at Calvary. Why did you choose this example?
A: There are so many memories. It's hard to choose just one! When I connect with my patients, I try to keep them in my heart.
Mr. B. was non-verbal and had dementia. He was special to me because he recognized me by opening his eyes and smiling at me whenever I came for a visit.
It was in his home when I touched a real Torah scroll for the first time. Members of Mr. B.'s temple came over for a Jewish holiday prayer. I held his hand as he touched the Torah scroll to follow the words. Mr. B was so happy swinging his legs as the temple members sang. I felt so special that day to join Mr. B. and his synagogue family on such a significant, momentous and memorable Jewish holiday.
Q: What qualities are essential to being a Calvary nurse? Why do you feel this way?
A: A Calvary nurse has to be compassionate, understanding, giving, helpful, dedicated and motivated to his or her job. Most importantly, she needs to be kind and caring.
All of these qualities have to be exemplary. With every family, we are dealing with a life and death situation every day. Illness, death and dying is the hardest job of all.
Q: How do you care for yourself?
A: In my free time, I write poems and read to patients who like poetry. I also enjoy hiking and mountain trekking. I have summited in Peru (Macchu Picchu) and in Nepal, at Mt. Everest Base Camp. I have visited Higashi Sappro, our sister hospital in Japan, and seen the quiet prayer room called the Calvary room!