At Calvary, we're committed to treating every patient and every family as we would our own loved ones.
Together with our supporters, Calvary Hospital has worked to lead our nation's healthcare system towards greater compassion.
Sadly, our country's healthcare system seems to be moving in the opposite direction..rushing headlong down a path of corporate efficiency and cost-reduction – leaving compassion and humanity behind.
In this environment we ask ourselves:
"How can Calvary Hospital do more for our patients and their families?"
Our 2018 Annual Program Review shows a few of the ways Calvary provided even better care to even more patients and their families last year than ever before, thanks to our Calvary Family of friends and supporters.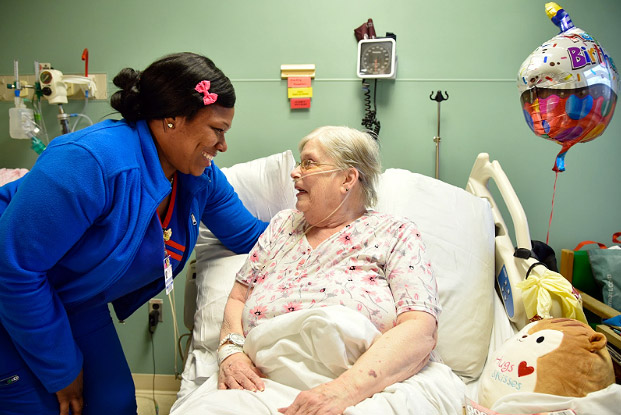 Insurance companies and managed care organizations insist the goal is to provide better care, but somehow it always comes down to telling us to cut back and stop going "too far" to help patients. That's not something Calvary is going to do.
Not as long as I'm leading our sacred mission.
Not as long as I have supporters like you standing behind me!
I recently received a letter from a woman whose husband lived his final weeks at Calvary.
She told me that before he came to Calvary, she cried every day to see her beloved in pain and without dignity at another hospital. "It just seemed so unfair that someone who was kind and compassionate to all he met should be dealt the hand he was given."
But then she found Calvary, a true blessing to her entire family, and to her husband who passed in peace.
"My oldest daughter and I were talking to him, holding his hands and singing to him as God kissed him to sleep. For that alone, I think you and your staff. The environment at Calvary is conducive to peace and tranquility for both the patient and their loved ones. Thank you!"
This is why your donations matter. The difference between dying in agony and without dignity, and dying in comfort and at peace. The difference between watching loved ones suffer, and embracing loved ones as God "kisses them to sleep." I hope our healthcare system finds a heart — and soon–, but right now, it seems to be moving further and further towards cost-efficient suffering, and away from CalvaryCare®.
A nurse from a respected hospice on the West Coast was recently quoted in an article as saying: "The drive to enroll as many patients as possible, reduce the per-patient cost to better align with Medicare reimbursements, and increase our productivity as nurses became a serious stressor on our patients. And on us. There were many times I broke down and cried knowing I was not permitted to provide the kind of care I came into hospice to do."
This is an example of an organization going in that other direction and it's heartbreaking.
Heartbreaking for the nurse, who can't provide the care she knows her patients need.
Heartbreaking for patients, who lose their dignity when they are at their most vulnerable.
Heartbreaking for loved ones who have to watch them suffer.
Our supporters make our care possible!
Please take a few moments to read the Annual Program Review we've prepared for you and see all the ways our supporters are helping to provide peace and comfort, and all the ways you enable Calvary to continue to grow and provide even more care to even more people.
I think I should send all our friends a report that says, "Calvary Hospital and our sacred mission could not exist without you!" That's the true bottom line.
Together, we are fighting for compassion… for love… for dignity at the end of life. Thank you!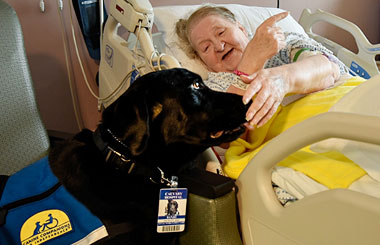 The end of a life can be physically, emotionally, and spiritually painful for every person involved.
Every religion on earth says we each have a duty to lighten that burden and relieve suffering when we can.
That's why we ask ourselves "How can Calvary Hospital do more for patients and their families?"
The answer is simple and it starts with you – people who understand what is right and stand up to defend it.
At Calvary, we strive to give each patient all the care and all the space they need.
We want our nurses, doctors and other caregivers to have the time and training they need to truly relieve pain in all its forms.
And we're committed to never turning away a patient who needs us.
You make all that possible.