Defining Hope Screening
Tuesday, April 3, 2018
Cornell Club, New York, NY
Defining Hope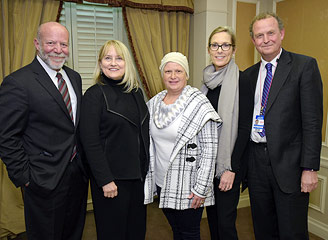 The Calvary Fund Chairman's Advisory Council hosted a screening of highlights from the groundbreaking documentary Defining Hope on Tuesday, April 3, 2018 for more than 70 people at the Cornell Club in New York, NY. The film prominently features Diane Ryan, RN, a nurse who works at Calvary's 200-bed Bronx campus.
Immediately following the screening, Patricia (Pat) Farnack, WCBS Newsradio 880 Radio anchor and host of the WCBS Health and Well Being Report, moderated a thought-provoking panel discussion with: Christopher P. Comfort, MD, Medical Director of Calvary Hospital; Carolyn Jones, Director and Executive Producer of Defining Hope; and Mark Rosenberg, DO, Chair, Emergency Medicine, St. Joseph's Healthcare System (NJ).
The panel covered a wide-ranging list of topics such as:
The state of Palliative Care in the U.S. over the past 30 years
What we are doing to provide access to excellent palliative care–especially at the end of life–for people who need it most
How we can encourage more people to create an Advance Care Directive
What we need to do to improve palliative care in the short and long term
How we can overcome cultural and generational obstacles to beginning the conversation on End-of-Life choices
The entire documentary of Defining Hope will air throughout the month of April on PBS stations. In the greater New York area, tune in to WLIW, Channel 21 on: April 30 at 7:00 pm and May 1 at 12 am, 8:00 am and 2:00 pm. To learn more, please visit: http://hope.film.
Click below to complete a brief survey so we can prepare for our next event hosted by the Calvary Fund Chairman's Advisory Council.