CalvaryCare®
Jewish Patients and Families
Calvary's patient care model successfully addresses the medical, emotional and spiritual needs of patients and their families. We have always embraced the opportunity to care for people from all religious backgrounds.
We continue Calvary's century-long sensitivity to help our Jewish patients and families feel comfortable during their stay here.
Calvary staff is knowledgeable about and sensitive to the needs of the greater Jewish community. Upon admission to Calvary Hospital or Calvary@Home, every Jewish patient will meet a rabbi who will inquire about their personal needs.
In the Hospital, we will immediately prepare rooms so patients are as comfortable as possible. Jewish chaplains will visit regularly with patients and their families, offering counseling, active listening, life review, prayer, song and companionship.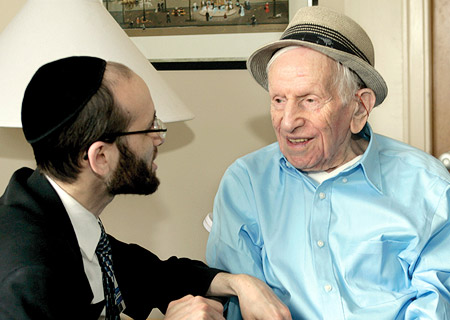 Every year, Calvary cares for more than 700 Jewish patients in our hospice/home care program and at our 4 locations in the Bronx, Brooklyn, Manhattan and Queens.
Our staff receives ongoing training in the traditions of the observant Jewish community. We respect and encourage our Jewish patients and families to maintain their spiritual and cultural ties to their community.
Calvary@Home staff are trained to be sensitive to the religious and cultural customs of observant Jewish patients and families such as:
Maintaining the kashrus of the patient's kitchen
Preference for caregivers to be the same gender as the patient
Shabbos regulations respected
Prompt and culturally sensitive procedures in transporting deceased patients directly to a Jewish funeral home; Chevra Kadisha will be notified; special Shabbos protocol will be followed
Jewish patients and families choose Calvary because we deliver the very best end-of-life care while honoring their religious traditions.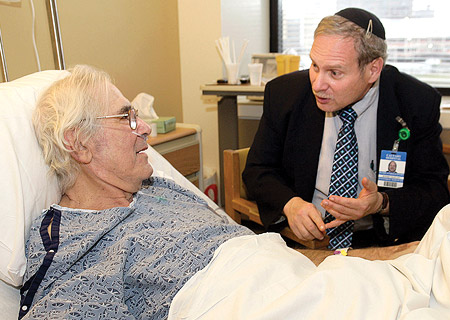 CalvaryCare® includes a comprehensive range of services such as:
Pastoral care by the Hospital's staff rabbis to meet the religious and spiritual needs for all levels of observance
End-of-life counseling in accordance with Jewish tradition
Kosher meals including cholov yisroel dairy products – and kosher for Passover meals – are available upon request
Self-service Kosher hospitality room at the Bronx campus, stocked by Chesed 24/7 and Satmar Bikur Cholim
Shabbat lounge and observance of Shabbos and all major Jewish holidays
Bronx campus included in the Pelham Parkway eruv
Shabbos housing and synagogue within walking distance of the Bronx campus
Anticipatory grief support
Guidance for burial options in the U.S. and Israel
Removal of crucifix from patient's rooms before admission
Weekly Bikur Cholim visits for Shabbos and Yom Tov from Einstein students at the Bronx campus
Weekly Oneg Shabbat services at Calvary's Bronx campus take place every Friday at 10:00 AM. Patients may attend in person or view the services on the in-house channel 19 (Bronx Campus).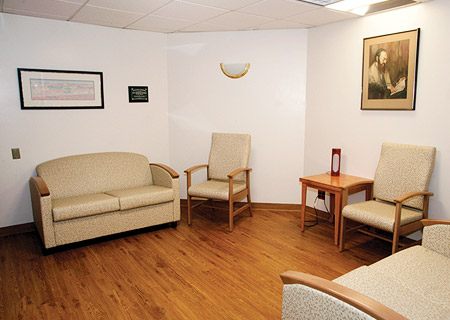 Calvary's goal with Jewish patients and families at our 25-bed Brooklyn Campus is the same as in the Bronx: that they feel welcome, respected and are receiving the best possible end-of-life care.
Kosher foods for patients are available from the staff dietitian. Calvary's Brooklyn Campus maintains a fully stocked 24-hour "Kosher Products for Families" room on the 4th floor (room 4801).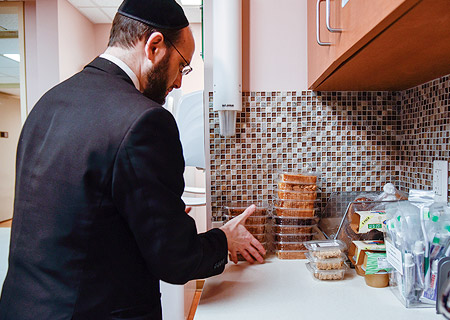 Halachic End-of-Life Care
Our rabbis care for hundreds of Jewish patients a year at Calvary's four inpatient locations and in the Hospice and Home Care program.
Three rabbis care for hundreds of Jewish patients every year at Calvary's four inpatient locations and in the community through our Hospice and Home Care program. Calvary works with various organizations to educate the Jewish community about how to obtain excellent end-of-life care in full accordance with Jewish law. The objective is to provide the Jewish community with the tools they need to make the right healthcare decisions for their loved ones.
For all Jewish patients, we work closely with their families to ensure a dignified Jewish funeral and burial, in line with their religious beliefs and practices.
What Is Halachic Care?
At Calvary, clinical staff are particularly sensitive to needs of observant Jewish families. Medical and nursing care are aligned with Halachic (Jewish law) guidelines as determined by each family's rabbi and/or posek while respecting sanctity of life in a palliative environment.
Halachic End of Life Care: A Sacred Partnership
End-of-life decisions can be difficult. Calvary Hospital partners with families and community-based rabbis/poskim to validate comfortable healthcare choices for their loved ones.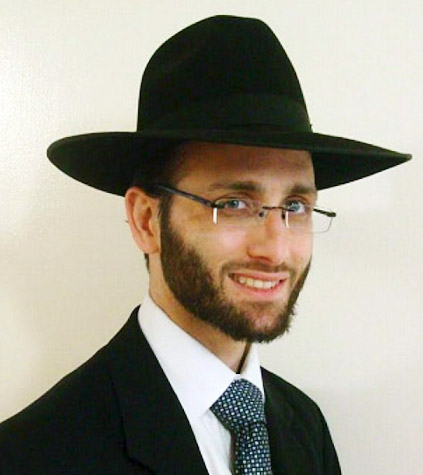 According to Rabbi Rachmiel Rothberger, Jewish Community Liaison for Calvary Hospital and Calvary@Home, educating the community about end-of-life choices helps ensure people make informed choices for themselves and for their families.
"The most common thing people say to me is that they don't want to choose hospice because they believe it hastens death," said Rabbi Rothberger. "That's not accurate. The priority of palliative and hospice care is to manage symptoms correctly so that patients are always comfortable, while maintaining sanctity of life."
About Calvary Hospital
Founded in 1899, Calvary Hospital is the nation's only fully accredited acute care specialty hospital singularly devoted to providing palliative care to adult patients with advanced cancer and life-limiting illnesses, without regard to race, religion, or economic status.
Calvary's continuum of care includes inpatient and outpatient care, care of complex wounds, home care, hospice, bereavement care, and extensive support programs for patients, families, and friends. Each year, Calvary cares for thousands of patients and their families.
CalvaryCare® is founded on the guiding principles of compassion, respect for the dignity of every patient, and non-abandonment of our patients and families. Our primary goal is to address the physical, emotional and spiritual needs of the patient and their families.