Home Care
Continuing Our Tradition of Commitment, Caring and Compassion with CalvaryCare® in the Home
Continuing Our Tradition of Commitment, Caring and Compassion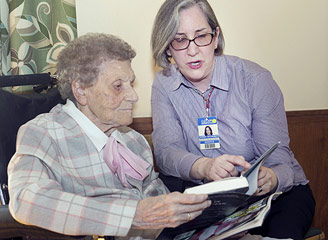 Calvary's Home Health Agency serves patients in the Bronx, Manhattan, Queens, Brooklyn, Staten Island, as well as Nassau, Westchester and Rockland counties.
Calvary offers home care to patients with all diagnoses.  Most patients return to pre-illness function and are discharged to self-care within six to eight weeks.
All of our patients who we care for at home get the same level of high-quality and unique CalvaryCare® as all of our inpatients.
How Can We Help?
The following services are available to patients and their families through Calvary's Certified Home Health Agency.
(Please note that these services are not restricted to cancer patients.)
Our Community Health Nurses provide nursing visits to patients in their homes.
24-Hour Telephone Access to RN (Registered Nurse) on-call.
Provides assistance with personal care and other activities related to health care.
Calvary Home Care staff will work closely with the patient's own physician to meet home health needs. Our staff has extensive knowledge of pain management.
A full range of Social Work services are available to help patients and families cope with the problems of illness.
Assistance in Medicaid application
Assistance in long-term planning
Referrals may be made by patients, family members, friends, hospital, clinics, physicians, other health care professionals and community agencies. To make a referral or to learn more about our services, please call 718-430-9540.
Facilitate admission to inpatient care for symptom management
Provide information on Calvary programs including bereavement support
How Is Home Care Paid For?
MANY HOME CARE SERVICES ARE COVERED BY:
Medicare (certified)
Medicaid (certified)
Blue Cross and other commercial insurance
Please call our office for further information