Home Care
Continuing Our Tradition of Commitment, Caring and Compassion with CalvaryCareSM in the Home
Continuing Our Tradition of Commitment, Caring and Compassion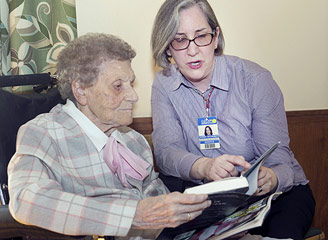 Calvary's Home Health Agency serves patients in the Bronx, Manhattan, Queens, Brooklyn, Staten Island, as well as Nassau, Westchester and Rockland counties.
Calvary offers home care to patients with all diagnoses.  Most patients return to pre-illness function and are discharged to self-care within six to eight weeks.
All of our patients who we care for at home get the same level of high-quality and unique CalvaryCareSM as all of our inpatients.
How Can We Help?
The following services are available to patients and their families through Calvary's Certified Home Health Agency.
(Please note that these services are not restricted to cancer patients.)
How Is Home Care Paid For?
MANY HOME CARE SERVICES ARE COVERED BY:
Medicare (certified)
Medicaid (certified)
Blue Cross and other commercial insurance
Please call our office for further information