What Is Hospice Care?
Hospice care is end-of-life care. A team of health care professionals and volunteers provides it. They give medical, psychological, and spiritual support. The goal of the care is to help people who are dying have peace, comfort, and dignity.
For more than a century, Calvary, a not-for-profit hospital, has been exclusively devoted to providing palliative care to adult patients with advanced cancer and other life-limiting illnesses.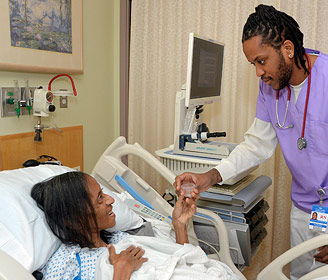 Throughout the provision of inpatient, outpatient, hospice and home care services, Calvary has been committed to the non-abandonment of its patients and has focused its mission on meeting the emerging physical, psychosocial and spiritual needs of both patients and families.
Our Calvary Hospital Hospice services are part of the continuum of care for the terminally ill.
Our Hospice program features a dedicated team of registered nurses (RN), doctors, Social Workers, Pastoral Care staff members, Home Health Aides, volunteers and bereavement counselors. Calvary's Hospice services are designed mainly for patients who want to spend their last days at home. In fact, approximately 90 percent of our Hospice patients pass away at home. Calvary also offers a 13-month bereavement program for patients' family and friends as mandated by the federal government.
View our Hospice Brochure in English.
View our Hospice Brochure in Spanish
Hospice Services
Nursing care, as

needed

to maintain the patient at home
24 hours a day, 7 days a week on-call nurse
Physician services
Medical social services
Counseling services
Nutritional counseling
Short-term inpatient and respite care
Medical supplies and equipment related to the terminal illness
Personal care provided by Certified Home Health Aides
Therapies (e.g., physical, occupational and speech)
Medications for symptom management and pain control related to the terminal illness
Bereavement counseling for family members and significant others
Volunteer services
Calvary@Home partners with patients' families to promote the quality of life, address pain management and other symptoms, and help prepare both the patient and their loved ones for what to expect in the final days of life. Published data verifies that Calvary's Home Care and Hospice program continues to exceed national and regional measures for the relief of symptoms.
Calvary@Home is looking for those willing to provide the gift of presence and support at a critical time. Volunteers provide companionship to the patients and families in the community (Bronx, Manhattan, Westchester, Rockland, Brooklyn, Queens, Nassau) and nursing homes. Opportunities for office and bereavement support are available. For information on being a Hospice Volunteer in the community and participating in upcoming training, please contact Calvary Hospital's Hospice Volunteer Coordinator at 718-518-2000, ext. 3811 or 718-518-2000, ext. 2465.
Calvary Hospital Hospice
Calvary Hospital Hospice is a Medicare-certified Hospice program, which provides an interdisciplinary care team for patients with a terminal prognosis for all end-stage diseases. Calvary Hospital Hospice embraces and implements the basic assumptions of the hospice concept, including the following:
Hospice provides palliative medical care, treating the physical, emotional and spiritual pain of the patient and family.
Hospice treats the patient and loved ones together as a whole unit of care and offers bereavement counseling for surviving caregivers after the patient's death.
Hospice patients remain in the familiar, comforting surroundings of home, whether it's a private residence, nursing home, hospital or an assisted living facility.
Hospice care provides the following four levels of care: routine care, general inpatient care (if needed), continuous care (during a crisis), and respite care.
We now offer short-term inpatient care at The Dawn Greene Hospice in Manhattan as well as Ozanam Hall in Queens. View the Dawn Greene Hospice video.
How Do I Qualify for the Medicare Hospice Benefit?
Medicare* pays for hospice care under these conditions:
*similar benefits are provided through private insurance
Patient has Medicare Part A
Physician certifies a terminal illness, with a life expectancy of 6 months or less
Patient elects hospice benefit instead of standard Medicare benefits for the illness
A Medicare-participating hospice program, such as Calvary Hospital Hospice, provides care
The patient may revoke the hospice benefit at any time
If the patient chooses to revoke hospice status, Medicare coverage or other coverage is then reinstated
How to Make a Referral
Anyone can make a referral to Calvary Hospital Hospice by calling either of the two phone numbers listed below.
After a referral is made to Calvary Hospital Hospice, the nurse contacts the patient and/or family to schedule a time to meet.
The ultimate decision regarding the acceptance of hospice care is made by the patient and family/ caregiver.
Home care: 718-430-9540
Hospice: 718-518-2000, ext. 2465
Carmela Aiese, RN
Hospice Nurse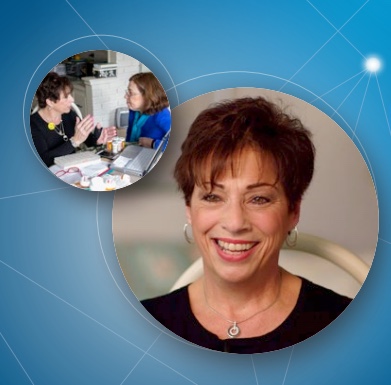 You become a nurse to help people get better. I don't think it's the type of job you can go to day-to-day and not feel for what you're doing. In Hospice we're helping them to die gracefully, comfortably, peacefully. I guess the most satisfying thing about working at Calvary is getting to meet so many families, we really have had the opportunity to touch a family, to make somebody's life better, and make somebody's death better. I think that the employees, the medical staff, all the employees at Calvary have a very high standard of commitment and compassion.