Plan a Visit
Contact our Family Care Center at
(718) 518-2574 to schedule your
on-site visit or tour.
Patient & Family Tours
Due to the coronavirus outbreak, the Department of Health is currently mandating that all hospitals suspend all visitation immediately. If you are visiting a person who is not extremely ill, please refrain from visiting.​
VISITING POLICY: FOR CRITICAL PATIENTS
For patients on "critical" status at the Bronx campus, family members may visit for one extra hour per patient per day, outside of the regular visiting hours.
This is by appointment only. To set up an appointment, call Social Work/Family Care at ext. 2365.
The New York State Department of Health also offered this guidance: Visitors should understand that they might acquire COVID-19 by entering a hospital, and should make an informed decision whether the benefits of a visit outweigh the risks. "Individuals age 70 years or older, or those with chronic medical conditions, are not encouraged to visit at this time due to increased risk of COVID-19 infection."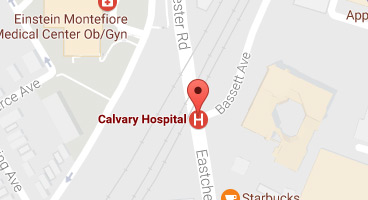 Calvary Hospital – Bronx Campus
1740 Eastchester Road
Bronx, NY 10461
Phone: (718) 518-2000
Fax: (718) 518-2674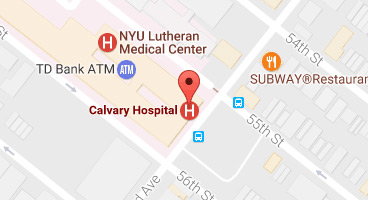 Calvary Hospital – Brooklyn Campus
150 55th Street (3rd floor)
Brooklyn, NY 11220
Phone: (718) 630-6666
Fax: (718) 630-6680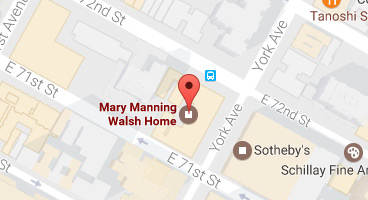 The Dawn Greene Hospice
at Mary Manning Walsh Home
1339 York Avenue
New York, NY 10021
Phone: (347) 252-8023
Families need to schedule an appointment by calling the Family Care Center at (718) 518-2574.  Often, a visit to Calvary alleviates patient/family concerns and answers most questions.
Informational Presentations
Presentations can be made at your facility or at Calvary.
Topics include:
Calvary Hospital's Program of Care
Inpatient Services
Home Care
Hospice
Nearby Hotel Accommodation
Bronx Campus
Residence Inn by Marriott New York The Bronx at Metro Center Atrium
1776 Eastchester Rd, Bronx, NY 10461
marriott.com
(718) 239-3939
Brooklyn Campus
Wyndham Garden
457 39th St, Brooklyn, NY 11232
wyndhamhotels.com
(718) 972-0900
Make an Appointment
Call the Family Care Center at (718) 518-2574 to schedule an appointment or to schedule a tour of the Bronx Campus.