Calvary@Home
CalvaryCare® in Your Home
Calvary@Home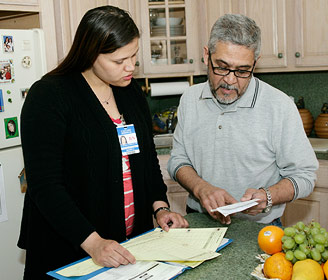 Calvary@Home is comprised of our comprehensive home care and hospice services serving patients who live throughout the metropolitan New York area.
Our Hospice Program features a dedicated team of registered nurses (RN), doctors, Social Workers, Pastoral Care staff members, Home Health aides, volunteers, and bereavement counselors.
Calvary Hospice provides end-of-life care to patients with life-limiting illnesses whose care has transitioned from active curative to palliative and quality of life focused. The majority of care is provided in the patient's home and as needed, short term inpatient care is provided at several facilities throughout the greater New York area. In addition to professional services, hospice benefit includes the cost of medicines, equipment, supplies and transportation.
Calvary also offers a 13-month bereavement program for patients' family and friends as mandated by the federal government. View our Hospice Brochure in English.
Calvary@Home partners with patients' families to promote quality of life, address pain management and other symptoms, and help prepare both the patient and their loved ones for what to expect in the final days of life. Published data verifies that Calvary's Home Care and Hospice program continues to exceed national and regional measures for the relief of symptoms.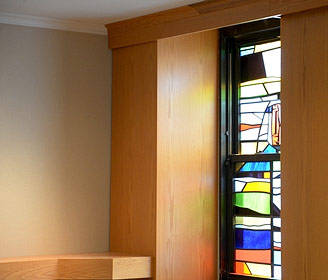 Inpatient care is provided at Calvary's Bronx campus, Brooklyn campus, the Dawn Greene Hospice in Manhattan and at Ozanam Hall in Ozanam Hall.
At The Dawn Greene Hospice (TDGH), under the supervision of Calvary@Home, the Hospital provides short-term inpatient care for Manhattan residents. In 2018, due to demand, we expanded TDGH into an 18-bed facility. ​View our Dawn Greene Hospice Brochure.
We established a new partnership with Ozanam Hall in Queens in 2016 and we now offer an inpatient level of hospice care to their residents as needed. Under the supervision of Calvary@Home, and with the skillful leadership of the Carmelite Sisters, Ozanam Hall provides Short-Term Rehabilitation and Skilled Geriatric Care for up to 13 patients at a time.
Wherever we care for a Calvary@Home patient, the quality of care is the same standard for which we are known around the globe.
Need more information? Call us at 718-518-2000, ext. 2465
How Do I Qualify for the Medicare Hospice Benefit?
Medicare* pays for hospice care under these conditions:
*similar benefits are provided through private insurance
Patient has Medicare Part A
Physician certifies a terminal illness, with a life expectancy of 6 months or less
Patient elects hospice benefit instead of standard Medicare benefits for the illness
A Medicare-participating hospice program, such as Calvary Hospital Hospice, provides care
The patient may revoke the hospice benefit at any time
If the patient chooses to revoke hospice status, Medicare coverage or other coverage is then reinstated
How You Can Help
Calvary@Home is looking for those willing to provide the gift of presence and support at a critical time. Volunteers provide companionship to the patients and families in the community (Bronx, Manhattan, Westchester, Rockland, Brooklyn, Queens, Nassau) and nursing homes. Opportunities for office and bereavement support are available. For information on being a Hospice Volunteer in the community and participating in upcoming training, please contact the Hospice Volunteer Coordinator at 718-518-2000, ext. 3811 or 718-518-2000, ext. 2465.
How To Make A Referral
Anyone can make a referral to Calvary Hospital Hospice by calling either of the two phone numbers listed below.
After a referral is made to Calvary Hospital Hospice, the nurse contacts the patient and/or family to schedule a time to meet.
The ultimate decision regarding the acceptance of hospice care is made by the patient and family/caregiver.
Home care: 718-430-9540
Hospice: 718-518-2000, ext. 2465
Jane Madio, RN
Director of Clinical Operations for Calvary@Home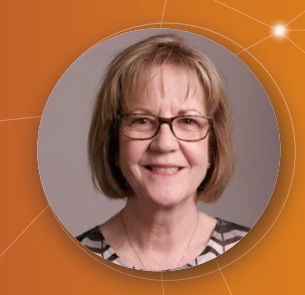 We are on call to speak with family members at all times and assist them through any crisis. One of the most important things we do with Calvary@Home is strive to keep our patients comfortable in the place they want to be. It often involves working with the families closely. We support our families and teach them how to care for their loved ones. It is their love and support that gets the patients where they are. We sit and listen to them and really hear what they have to say. It's our mission to be able to help them with interventions and services that they need so they can provide the best care for their loved ones.