Our Stories
Patients & Families: Curtis Edward Moore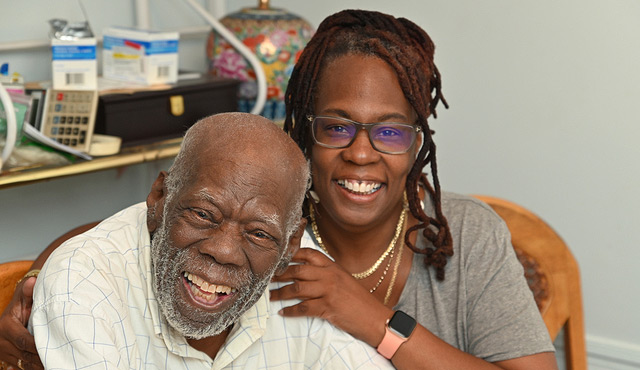 "My dad served his country, protected his city, and sacrificed for his family. At 96, he deserves nothing but the best: Calvary at Home."
Curtis Edward Moore, a man of extraordinary strength and dedication, has spent his life serving his country, protecting his city, and sacrificing for his family. Now, at the age of 96, Curtis is receiving Calvary's expert palliative care, CalvaryCare®.
Calvary's compassionate, loving care is provided in Curtis's home.
In loving tribute to her father, Curtis Moore, Phyllis Robinson graciously invited us to glimpse into the extraordinary life he has led. Curtis dedicated himself to serving our country as a Montford Point Marine and our city as an NYPD detective. A true pillar of his family, Curtis has always placed his children and grandchildren at the forefront of his heart and actions.
Phyllis shared, "Calvary has been a blessing to my family." Curtis continued, "I wish I had the words to express my thanks to the Calvary Community; they've been just wonderful to me."
We are excited to share the story of Curtis Moore's remarkable life and proud to say Calvary has been able to provide the love, support, and comfort he needs.
Home Hospice and Palliative Care – CalvaryCare®
Calvary is the leading home hospice care provider in New York City, the Five Boroughs, and Westchester County, NY. Guided by compassion, respect, and unwavering support, we address patients and their loved ones' physical, emotional, and spiritual needs.
If you are looking for home hospice care for a loved one in the metropolitan New York area, Westchester County, or Long Island, please contact us; anyone can make a referral to Calvary Hospital Hospice by calling us at Home care: 718-430-9540, Hospice: 718-518-2465.
Calvary at Home partners with patients and their loved ones to promote quality of life and address pain management, and other symptoms, while helping to prepare both the patient and their loved ones for what to expect in the final days of life.
Calvary's Home Care and Hospice program continues to exceed national and regional measures for the relief of symptoms.
Calvary has been dedicated to meeting the evolving needs of our community since 1899. We have developed a wide range of care options to cater to the diverse needs of patients and families. From our inpatient facilities in the Bronx, Manhattan, Brooklyn, and Queens to our in-home programs, Calvary strives to provide comprehensive end-of-life care wherever it is needed most.
Curtis's story is a reminder of the power of love and the Calvary community.
We invite you to contact us to learn about care options available to you and our loved ones and thank the individual supporters who have made our mission possible.
Contact Admissions
For admission to Home Care or Home Hospice, a referral is made by calling the Home Care Coordinator. For assistance, please please call:
718-518-2465
Support Calvary's Mission
After more than a century of caring for patients and their families with a philosophy of non-abandonment and dignity in a restraint-free environment, Calvary Hospital and its staff remain committed to ensuring that this care continues indefinitely.
– Thank you!
Curtis's Story
This story was originally published before Mr. Moore passed away.