Our Stories: Donors
An interview with Jose Diaz & Cindy Cosma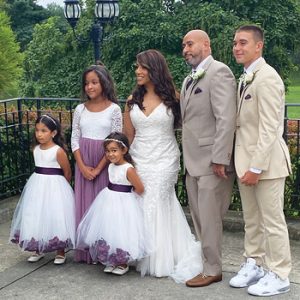 In September 2021, Jose Diaz married the love of his life, Cindy Cosma. They encouraged guests to make gifts to Calvary Hospital in lieu of wedding gifts.
Jose Diaz
"Thank you Calvary for the job you did during one of the toughest times in my life and the continuing support you have for other families during theirs"
Tell us about your mother, Hilda M. Gonzalez.
My mother emigrated from the Dominican Republic to America by herself to find a better life. I was born when she was in her late 30s. She became a single mother taking care of a son in the South Bronx in the late 70s and throughout the 80s. It was very difficult for her, but she survived and built a beautiful life for the both of us. She meant the world to me and everyone who had the privilege to know her.
What are your favorite memories with your mother?
On Saturday mornings, I would wake up to her cleaning the house and dancing around to music. The smell of her coffee brewing on the stove while I ate breakfast at the kitchen table watching my morning cartoons.
Your mother received CalvaryCare® in 2000. What did you know about us before she was admitted?
When curing my mother's cancer was no longer possible, the doctors at Mount Sinai Hospital referred me to Calvary. I didn't know much about you before then. My cousin and I did three separate visits just to make sure this was the right place for her. As hard as it was to let her go, seeing how people were treated at Calvary made it easier.
Some people are afraid to even call us for information. What would you tell someone to reassure them about end-of-life care from Calvary?
It's difficult dealing with something like this. My mother was my world and I was an only child. I had no siblings or real extended family members to help me deal with this kind of situation.
When I finally made the decision to speak to someone at Calvary, it felt like it took a big burden off of my shoulders. The understanding, experience and the thoughtfulness of the staff and administrators I had received from the beginning to end was wonderful.
I could not have made it through that situation if it was not for the care of Calvary. They not only cared for my mother, but they made sure I understood everything and I was able to cope with it all.