Our Stories
Patients & Families: Linda Monssen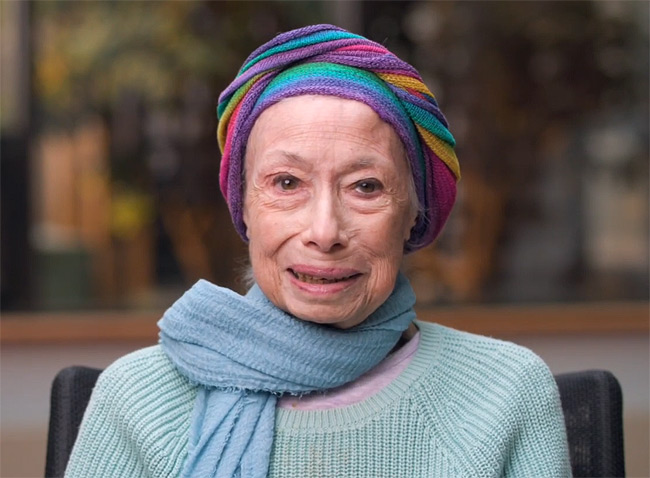 Stories of Care: Linda Monssen
In early 2023, Linda Monssen, a voice coach and teacher, received care at Calvary Brooklyn. During her time at the hospital, Linda received exceptional support from the dedicated staff, allowing her to continue pursuing her passion for music and sharing her zest for life.
Though her strength was limited, Linda's radiant spirit remained undimmed as she wholeheartedly shared her love of music with those around her.
Linda lived a remarkable life, scored to the rhythm of her deep love of music, her inextinguishable passion for sharing its virtue with others, and her profound impact as an educator. A Bronx native, she grew up in a family of musicians, and her love for music flourished from a young age. With a natural aptitude for the art form, Linda's passion shaped her life and found a place in all she did.
A loving mother, an inspiring teacher, and a gifted musician.
For 44 years, Linda dedicated herself to teaching music in various educational institutions, from public to private schools and universities. Her commitment to education went beyond the walls of her classroom. Linda saw it as her lifelong mission to ignite the same passion for music in her students, which is just what she did.
One student, Andrew Kennedy, a Musical Instructor at New York PS 181, met Linda in 2004, and the two forged a strong bond. This meeting proved transformative for both individuals as Andrew became her student, immersing himself in all Linda had to teach, and together they explored the intricacies of the voice and the development of musicality within the brain.
Linda's expertise and profound knowledge deeply inspired Andrew, fueling his desire to impart that same fervor to his own students.
"Linda knows so much about music, and that inspired me, and in turn, it makes me want to inspire my students," he said.
It is said a teacher's impact is never fully known, that it is always growing, and rarely is it made this clear. The depth of Linda's work in music, the love she imparted, and her personal impact on the art is something of an independent force now cannot be quantified.
Linda's Students: Her Passion, Her Impact
Among Linda's many students, Jeffrey Mandelbaum held a special place in Linda's heart. Over three decades, they embarked on a musical journey together, with Linda nurturing Jeffrey's countertenor and opera singing talents. Their connection extended beyond the classroom.
Linda became a guiding force in his life. Her presence in Jeffrey's life changed him, and when he had a son of his own, he asked Linda to be his Godmother. Linda accepted this honor with great joy. Their bond exemplifies the lasting impact Linda had on her students, cultivating a sense of connection, self-assurance, and confidence in their curiosity about the art of music and their musical endeavors.
Throughout her career, Linda's joy was found in witnessing her students and their voices together develop and soar. She relished the transformative power of music and the human spirit, and she cherished the privilege of watching her students develop into accomplished musicians.
Linda's teaching philosophy embraced an organic and patient approach, allowing each student's unique voice to naturally evolve, bloom naturally and find expression. She shared anecdotes with us about her own excitement at seeing a spark of joy in her student's eyes as they discovered new melodies, how proud she felt watching them pursue improvement with unwavering determination, and the joy she felt when her students expressed their gratitude for her efforts.
Linda was an educator at her core, and her life serves as a testament to the profound impact great teachers have on their students.
Linda's Calvary Care Story
In 1993, Linda received a diagnosis of thyroid cancer and began treatment. 30 years later in 2023, Linda decided to seek care at Calvary Brooklyn. Renowned for our compassionate and dedicated approach to care, Linda received more than medical attention. At Calvary, Linda found a sanctuary of peace and support.
Linda shared that upon her arrival, she immediately felt embraced by a warm and welcoming atmosphere. In Calvary fashion, our staff went to great lengths to ensure her comfort, attending to her physical and emotional needs. All of us deeply loved Linda. At Calvary, our care is delivered with love, touch, and deep connection. Our staff became an extended family to Linda, creating an environment where she could reflect, create, and find solace amidst the challenges she faced.
At Calvary, Linda's room transformed into a haven for music.
Recognizing that the best and most healing care for Linda would be her art, one of Calvary's music therapists provided Linda with a keyboard, enabling her to continue her musical pursuits. The enchanting sounds that filled the space captivated the staff, who recognized the resilience and passion Linda shared through her music.
The power of music, combined with Linda's indomitable spirit, became a testament to the art's transformative power, and in Linda's room at Calvary, Andrew, Jeffery, and Linda continued their work, connection, and story. They sang, embraced, and performed the art that brought them together.
Linda's story is a prismatic inspiration and a reminder of the power of love and the Calvary community. Calvary is proud to have played a role in ensuring Linda received the best care for her at Calvary Brooklyn, where the sweet sounds of her music graced our halls, blessed our patients and staff, and sweetened her time with us.
We invite you to contact us to learn about care options available to you and our loved ones and thank the individual supporters who have made our mission possible.
Contact Admissions
For admission to Home Care or Home Hospice, a referral is made by calling the Home Care Coordinator. For assistance, please please call: 718-518-2465