Helping People Find Peace and Meaning in Life after Loss
Maria Georgopoulos, LMHC, FT
Former Director of Bereavement Services
Calvary Hospital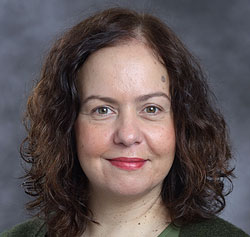 When you experience the death of someone significant in your life, you can feel as though your world has spun out of control. You may experience many secondary losses alongside the physical death of the person, such as the loss of hopes and dreams, the gap that now exists in your support system or your sense of security in a predictable world.
You may feel like you are "going crazy" or wonder what's wrong with you and why you haven't been able to "move on," which may be what your family and friends expect. When the idea of attending a support group comes up, you may hesitate because of the pressure you've put on yourself to feel better on your own and within a certain timeframe.
Changing Your Relationship with Grief
Grief has its own timeline. And it may ebb and flow with us as we journey through our lifetime. The quality of our grief changes over time.
As the initial fog of grief clears, you may be able to focus on making meaning of your life now while continuing to honor your deceased loved one.
You may find it helpful to walk this journey alongside others who are experiencing it too; none of us can possibly ever be sufficiently prepared for the impact of a significant death in our lives.
What Children Feel
Children's grief is distinct from adults in several different ways. Children and teens need more support as they strive to understand what death means and how to regulate their emotions about it.
Without appropriate support, children can turn to unhealthy behaviors to manage their stress such as distancing themselves from others and acting out aggressively in school or at home. Their grades may suffer and they may get physically sick more frequently. Like adults, every child handles grief differently, but it's just as important for them to get the support they need in order to heal and go on.
Bereavement Support for Adults
Bereavement support can be defined as getting help and guidance to deal with the emotional, physical, spiritual and psychological pain associated with the death of someone who meant a lot to you. It is available in the form of groups or individual counseling.
After the initial loss, adults often find it difficult to focus and be productive in their personal and professional lives. They may report more frequent sickness, lower productivity at work and less interaction in their personal relationships. Bereavement support can help adults adjust to the changes in their life and work toward establishing some balance in their lives again. This will help them return to feelings of normalcy.
Bereavement Support for Children
Children greatly benefit from support groups as well. Grief can be a very isolating experience for children. They often have a difficult time talking about the death to their peers because they don't want to be viewed as different. A support group with other grieving children gives them the opportunity to form their own peer group of understanding friends. It also normalizes the experience of grief and helps children navigate the process.
Creative arts expression, a technique often employed in youth bereavement groups, helps children develop a vocabulary for death as well as for their feelings. Experienced clinicians can guide them to feel loss at a pace that is comfortable for them.

The death of a parent at a young age can result in grief that is felt strongly with the coming of different milestones. For instance, an eight-year-old girl whose mother died can feel her absence intensely while getting ready for prom, graduating high school, going to college, giving birth to her first child, etc. With support, children can learn to handle life's milestones in a much more productive way.
Find the Right Bereavement Support Group
Before deciding on a bereavement support group, you'll want to ask questions such as:
How long has the organization been offering bereavement support?
What kind of academic credentials or work experience do the bereavement counselors have?
How are the groups organized?
How often do they meet?
What types of activities do they do?
Use the answers you receive to find a support group with people who are like-minded and that meets your individual needs.
Calvary Hospital's Bereavement Support Groups
In existence for 40 years, Calvary Hospital's bereavement groups serve as a strong source of support for grieving families in our community.
Currently, 28 support groups for adults and children meet in Brooklyn, the Bronx, and Manhattan. All are free, facilitated by Masters-prepared clinicians and open to the community at large. A connection to Calvary is not necessary to participate in these groups.
Often adult bereavement groups include people with different types of losses – spouses/partners, elderly parents, those who've lost adult children, etc. At Calvary, the adult support groups are organized by the person's relationship to the deceased. For example, surviving spouses/partners who were together for 40+ years or parents who have experienced the death of a child are grouped with people experiencing the loss of the same relationship.
We also offer a young adult group and a men's group to help suit the specific needs of these populations. We've found organizing groups in this way is instrumental to helping people deal with their grief more effectively.
If finding a group affiliated with your faith or religious background is important, then you should seek those options out as well. Our groups at Calvary do not have a specific religious affiliation. They are a safe space for the topic of religion and spirituality to be addressed with people of all different faiths and beliefs.
In the aftermath of death, children often find themselves left out of what's going on for fear they won't understand or they'll be overwhelmed. In Calvary's children and teen bereavement support groups, we work with families to educate them on what the process is like for their children and to make sure that what we do in our groups translates into the home as well. We also assist our families in developing a continuing bond with their loved ones that have died.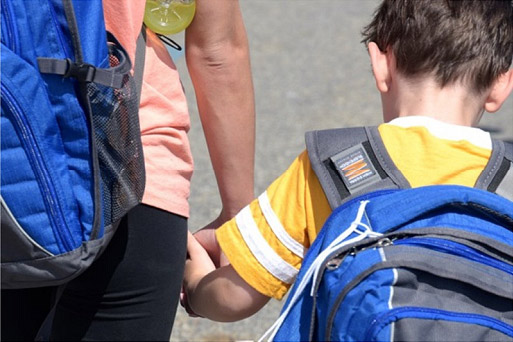 Calvary's Camp Compass®, our annual five-day day camp for all the children and teens who have been a part of our groups throughout the year, has served nearly 1,000 children ages 5-18 to date. Campers participate in recreational activities as well as bereavement activities. The camp brings together what they've learned throughout the year and offers them an opportunity to have fun as well as express their feelings of grief in a safe space.
Calvary Hospital's Outreach Programs
In addition to our bereavement support groups and services, Calvary Hospital provides outreach to agencies that have experienced a death in their community or feel they need more education in handling grief and bereavement issues. We value being a teaching hospital, and in that vein, offer two formal teaching courses annually for clinicians to gain more awareness around end of life care. Please contact us for more details on our outreach programs.
Coping with Loss and Grief
The death of someone significant in our lives can be devastating. It is a valuable part of Calvary Hospital's mission to help people of all ages cope with their grief and carry on with their lives in ways that feel meaningful to them.
Learn more about Calvary's bereavement program: https://www.calvaryhospital.org/patientsfamilies/bereavement-support/