Unique camp helps grieving children and teens
From August 21-25, Calvary Hospital hosted the 20th consecutive session of their bereavement camp for 60 children and teenagers, ages 6-18. Calvary's Camp Compass®, held at Kingsborough Community College in Brooklyn, was led by experienced grief professionals. The five day experience was filled with traditional, fun camp activities, grief education and emotional support. Calvary's Camp Compass® provided a unique opportunity for peer bonding between children and teens facing a similar life circumstance. This was an incredible experience for the children.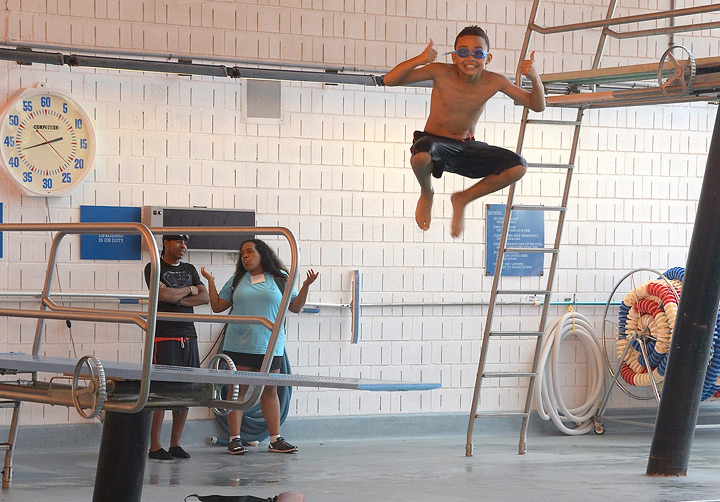 The campers enjoyed traditional activities such as swimming, fishing, and basketball. They also:
Built wooden lighthouses to remember the loved ones that they each lost
Enjoyed a rousing performance by the Harlem Wizards basketball team
Participated in an obstacle course, barbecue lunch, dance party and ice cream party
Enjoyed visits by two therapy dogs, painted pottery, made jewelry, learned salsa dancing; did scrapbooking
Three professional clowns gave daily lessons in juggling and performing clown tricks
All of the campers attend the Hospital's year-round bereavement programs — "Precious Moments" — for young children aged 6 to 10 years old, tween group for ages 10-12, or teen bereavement support for 13- to 18-year-olds. These groups, which meet at Calvary's Bronx Hospital, in downtown Brooklyn, and in Manhattan, have helped hundreds of children to date with their grief process.
Supporters of the Hospital's children's bereavement programs and Calvary's Camp Compass® have included but are not limited to: Newman's Own Foundation, Eileen T. Nugent, the Peter Jay Sharp Foundation, the van Ameringen Foundation, the George Link, Jr. Foundation, Ronald McDonald House Charities, Thomas & Agnes Carvel Foundation, Robert Mize and Isa White Trimble Foundation, and the Hagedorn Fund.
In the New York metropolitan area, Calvary has established itself as a resource for grieving families. It offers free bereavement support groups for adults, children, and teens, and referrals for additional support if necessary. Calvary offers three unique groups: one geared to the needs of young adults ages 18-25, one for men of all ages, and a psychotherapy group for adults who have already attended a previous bereavement support group.
Calvary's bereavement program is available to anyone who has lost a loved one, whether that person was a patient at Calvary, or someone from the larger community whose death was attributable to illness, accident, or violence.