Calvary CEO Dr. Christopher Comfort celebrates President Carter's Legacy
The National Hospice and Palliative Care Organization (NHPCO) and some of America's top hospice leaders – including Calvary CEO Dr. Christopher Comfort – joined together in Times Square on August 17th to acknowledge six months since former President Jimmy Carter entered hospice care and to thank him for his leadership.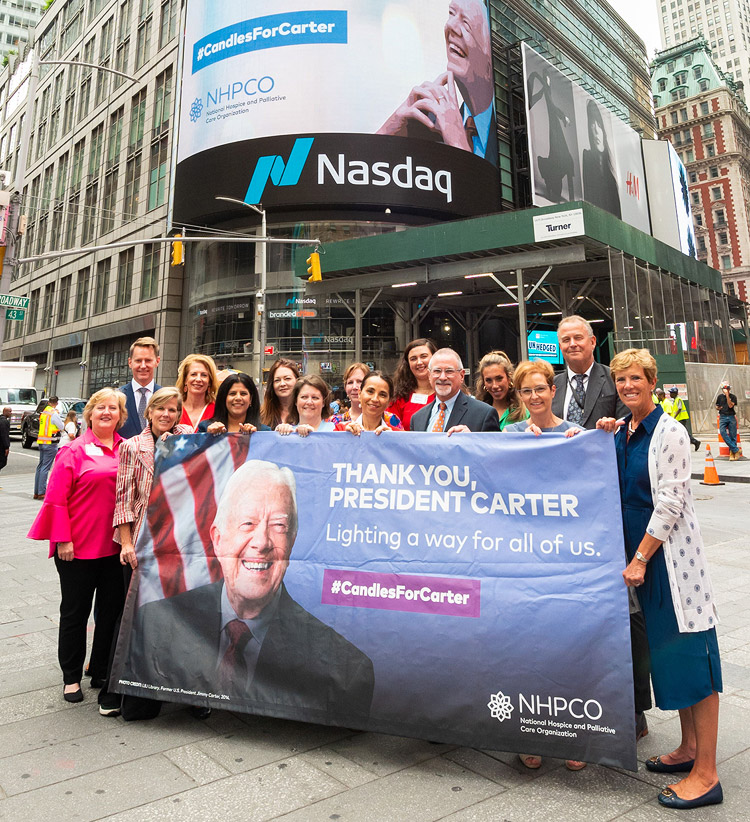 "President Carter is a man who is compassionate and who advances human rights. His public decision to enter hospice last February was consistent with the way he lives his life, in this service of others. His choice to raise awareness and acceptance of hospice was a generous gift to our country," said Dr. Comfort.
"The former President and the Carter family were teaching us about comfort, care, and compassion when making what was a seemingly impossible choice for anyone. I think it's extraordinary," added Dr. Comfort.
When President Carter publicly shared his decision earlier this year to enter hospice care at home, the Carter family sparked a national conversation and countless private ones about the value of hospice in America.
"I hope we will all take a cue from President Carter and be more willing than ever to have courageous conversations with our doctors and loved ones that help people think about how they want to experience their own hospice journey when it's their time," NHPCO COO and interim CEO, Ben Marcantonio.
Calvary is the world leader in providing expert medical care for people living with palliative care needs or requiring end-of-life care. More than 1000 staff provide that care from Calvary's 200 bed hospital in the Bronx and additional healthcare facilities across New York City, as well as Calvary's at-home and community-based hospice and homecare services which cater to residents throughout Greater New York. Non-profit and open to people of all faiths, Calvary Hospital is the only fully accredited acute-care hospital in the United States devoted exclusively to the palliative care of adult patients.
Visit www.calvaryhospital.org or call 718-518-2000 to learn how you or a loved one can live better with CalvaryCare®.