Bronx Resident Honored for her Professional Excellence

BRONX, NEW YORK, September 2018 – Calvary Hospital recently honored Bronx resident, Donna McKenzie, with the "Unit Secretary Excellence" Award for the first half of 2018. This award was created as a way to recognize the value of Unit Secretaries who made a difference during a patient stay / family visit in our hospital.
Mrs. McKenzie began working as a unit secretary in 2012 and is a graduate from St. Edmund Preparatory High School. Some of her nominations from colleagues and patients' family members included comments such as:
"Donna is cheerful and courteous person. She listens to what I have to say, spends time talking with me and treats me with the utmost respect."
"Mrs. McKenzie made my stay at Calvary very comfortable, she provided me with a service that was above and beyond what I had anticipated, and she also helped me with my special needs."
"Donna always made sure to keep me informed and explained the care and services I was receiving."
"Donna is a good team player who consistently provides support to the Nursing team to meet patient and family needs."
Mrs. McKenzie also has a family member that works in the healthcare industry that keeps her motivated to pursue a career in nursing. In her spare time, Mrs. McKenzie enjoys reading, walking and dining out. She resides in the Bronx with her family.
The Hospital encourages patients, family members, visitors and employees to nominate members of the nursing staff (nurses, Calvary Care technicians, and administrative staff) who demonstrate the Hospital's Core Values of Caring, Compassion, Commitment, Non-Abandonment, and Dignity through their work. Honorees are also expected to go above and beyond to make a difference, and exemplify a "healing touch" presence with patients and family members. Award recipients are chosen by their nurse administrators and nursing committee based on the nominations and performance.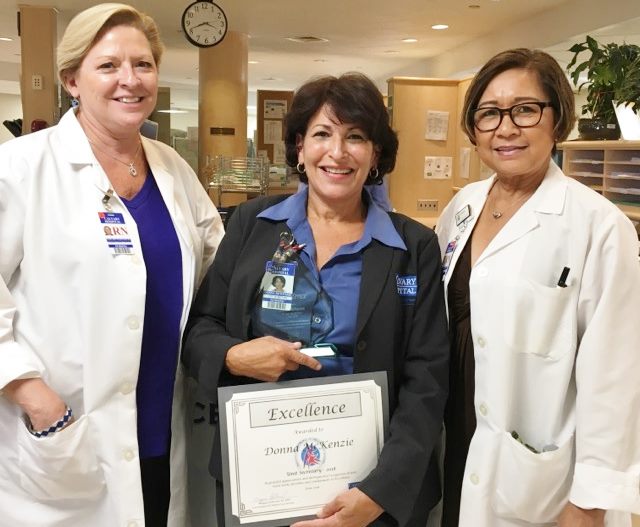 PHOTOCAPTION
Calvary recently recognized Donna McKenzie with the "Unit Secretary Excellence Award" On hand at the award ceremony are (left to right):
Margaret M. Pelkowski, RN, MSN, Vice President, Patient Care Services;
Donna McKenzie, (Honoree); and
Leonila C. Quinones, RN, MA, DON, Director of Nursing Operations.