New Rochelle Resident Honored for Her Excellence as a Nurse
BRONX, NEW YORK, December 2020 – Calvary Hospital recently honored Virginia Panchana, RN, with the DAISY Award toward the end of 2020. Nurses recognized with this biannual award must demonstrate excellence through clinical expertise as well as extraordinary, compassionate care. Honorees are also expected to go above and beyond to make a difference and exemplify a "healing touch" presence with patients and their families. Award recipients are chosen by their co-workers, administrators, peers, physicians, patients, and families.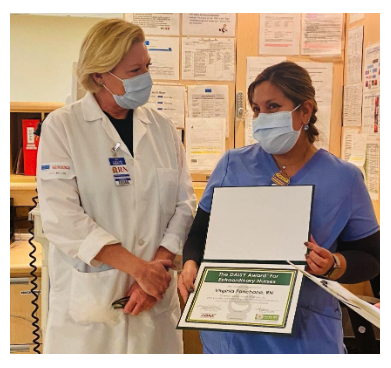 As a recipient of the DAISY Award, Virginia received several nominations from colleagues as well as from family members.
The comments included:
"Virginia is an extremely knowledgeable medical professional. She takes the time to explain what she is doing and answers all questions. She is able to convey, what to a layperson may seem overwhelming, Virginia has a clear understanding of. She is compassionate and her passion to help others is inspiring!"

"She is very kind…a lovely person….the best!" 
Virginia graduated with an Associate degree in Nursing from Westchester Community College in May 2009. By December of that year, she came to work for Calvary Hospital in the Bronx as a recent graduate. While working at Calvary, she continued her nursing education and graduated with a Bachelor in Nursing from The College of New Rochelle in 2017.
During her spare time, Virginia likes to be with her family and friends. She is one of three family members who work in the nursing profession. She currently resides in New Rochelle, NY with her family. She hopes to pursue her master's degree in nursing in the future. 
DAISY (www.daisyfoundation.org) is an acronym for Diseases Attacking the Immune System.  The foundation was formed in January 2000, by the family of J. Patrick Barnes who died at age 33 of complications related to Idiopathic Thrombocytopenic Purpura (ITP).  Patrick really liked Cinnabons at the end of his life and always made sure there was enough of this culinary treat for all the nurses in his unit.  As a result, all DAISY honorees are treated to Cinnabons at every presentation.  Each hospital also receives a special banner to hang in the recipient's unit as a way to celebrate the DAISY Award honors and the nursing profession. 
To date, 700 health care facilities (U.S., Canada, Middle East, and Germany, etc.) now give out DAISY awards to honor excellence on their nursing staff.  The organization's main goals are: 1) to pay tribute to nurses who make such an enormous difference in the lives of people they touch every single day; 2) fund grants for nurses who do research and evidence-based practices in the field of cancer; and 3) to give out the DAISY faculty award to inspiring teachers in nursing school. 
---
Since 1899, Calvary has been the nation's only fully accredited acute care specialty hospital devoted exclusively to providing palliative care to adult patients with advanced cancer and other life-limiting illnesses. Each year, thousands of patients receive CalvaryCare® throughout the greater New York area. To learn how Calvary can help you and your family, please visit: www.calvaryhospital.org.