Calvary Hospital Donates First-Aid Supplies to Ukraine
March 22, 2022
Calvary Hospital donated $15,000 worth of medical supplies to health care professionals and first responders providing critical care to the victims of the war in Ukraine, it was announced today.
Under the guidance of the Greater New York Hospital Association and working with the US-Ukraine Foundation and the Afya Foundation, the hospital ̶ in partnership with its supplier Medline ̶ delivered clotting bandages, medical tape, slings, dressings, antiseptics, and more to Afya's warehouse in Yonkers where it will be packed for shipment.
"We have all witnessed the cruelty and heartbreak caused by Russia's invasion. This is one way we can extend Calvary's compassion and care to people in need and support our employees who have family in the region," said Calvary CEO Frank Calamari, who, with Dr. Irina Makarevich, Director of Medical Services at Calvary's 25-bed Brooklyn campus, brought five pallets of first-aid staples to the depot.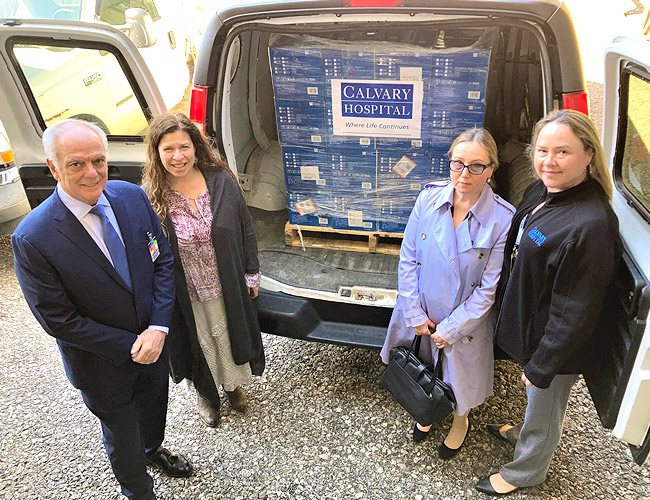 "We have about 30 staff of Ukrainian and Russian heritage at Calvary. While they help carry out our mission of providing palliative and end-of-life care for individuals and their families here, they are very concerned for the health and well-being of their families and friends back home and in neighboring countries," said Mr. Calamari.
Born in Rivne, in western Ukraine, Dr. Makarevich described her Calvary colleagues as one community against the war who support each other. "We still almost can't believe it is actually happening. We feel for Ukrainian and Russian people as well. My first cousin is a nurse in Ukraine. I get first-hand information from her and she reports medical personnel there are overwhelmed. This donation of first aid supplies is a tremendous show of compassion from Calvary and will help," said Dr. Makarevich, who studied medicine in St. Petersburg. "They need sterile gauze, saline, and stocks of first aid material which are in real shortage and easily run out," added Dr. Makarevich.
Calvary nurse Yuliya Moskalenko, who was raised and educated in Ukraine, finds it hard to describe how she feels. "I was born in Kiev and lived in Ukraine until I was 27. I have a lot of memories and my heart goes out to people there," she said.
Calvary employees are also helping people in Ukraine by contributing to charities including Catholic Relief Services and The Knights of Columbus.
Since 1899, Calvary has been the nation's only fully accredited acute care specialty hospital devoted exclusively to providing palliative care to adult patients with advanced cancer and other life-limiting illnesses. Each year, thousands of patients receive CalvaryCare® throughout the greater New York area.