135-Year-Old Scroll Presented with New Mantle Cover
On Tuesday, May 22nd, Calvary hosted a joyous celebration to dedicate a new mantle cover for a sacred Torah scroll. This 135-year old Torah scroll — dating from 1880 — is originally from the town of Taus-Domazlice, in what is now known as The Czech Republic. Since 1988, it has been on permanent loan to Calvary from the Memorial Scrolls Trust in London. Of the more than 1,400 MST scrolls currently on permanent loan around the world, Calvary's scroll, No. 515, is one of only 20 in the greater New York area today and one of just a handful that have gone to non-Jewish recipients.
At the event, Rabbi Jeffrey J. Sirkman, Senior Rabbi of Larchmont Temple in Larchmont, NY, shared his own CalvaryCare® experience with his beloved wife, Susan, in 2015. Calvary cared for her in their home and at the Hospital's 200-bed Bronx campus. Before he blessed the new mantle cover, Rabbi Sirkman spoke about how Torah is important every day and how this particular scroll represents "undying hope."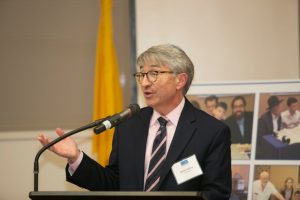 During World War II, the Nazis confiscated Jewish ritual items and sacred Torah Scrolls from Jewish communities of Bohemia and Moravia, then known as Czechoslovakia. In 1964, the Westminster Synagogue in London, England, received 1,564 Torah scrolls from Prague and established the Memorial Scrolls Trust to restore the scrolls and distribute them to communities throughout the world. To learn more about the Trust, visit: www.memorialscrollstrust.org.
Thanks to the significant support from the Charles R. and Winifred R. Weber Foundation, Calvary launched the restoration in November 2015. By the time this project was completed in November 2016, more than 200 donors had made gifts that amounted to more than $111,000. Once all restoration expenses were covered, the remaining funds benefited all patients and families under Calvary's care.
Jewish patients and families at Calvary have many amenities at their fingertips. Three rabbis at Calvary care for hundreds of Jewish inpatients and home hospice patients each year. In addition to kosher food upon request, Jewish inpatients and their families can expect a daily visit from a rabbi, food from an expanded Kosher Hospitality Room, dedicated Shabbos Lounge, Kabbalat Shabbat service, and celebrations of all major holidays.
The Hospital's outreach to the Jewish community, have been spearheaded by Dr. Michael J. Brescia, Executive Medical Director.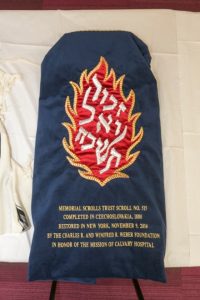 On May 22, Calvary Hospital officially dedicated a new mantle cover for a 135-year-old Torah housed at their Bronx campus. Rabbi Jeffrey J. Sirkman, Senior Rabbi of Larchmont Temple, blessed the new cover.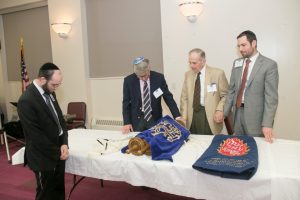 Calvary's event drew an enthusiastic crowd of people who supported their restoration project of a 135-year-old Torah scroll on permanent loan from the Memorial Scrolls Trust affiliated with Westminster Synagogue in London, England.