Entertainment and Ritual Heal at This Week's Camp Compass®
Children and teens bond and support each other at Calvary Hospital's annual grief camp.
Entertainers such as the Harlem Wizards professional basketball team and performer Derrick Davis – who has portrayed The Phantom, Mufasa, and King Triton – bring their exuberance and passion this week to Camp Compass®, Calvary Hospital's annual summer camp for New York children and teens who have experienced the death of significant others due to illness, accidents, and violence.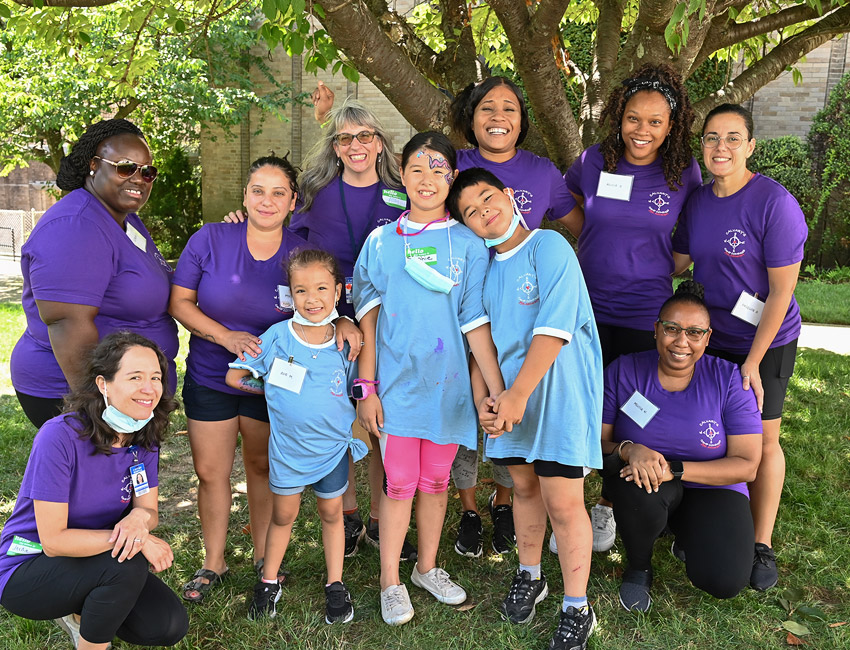 Established 26 years ago by Calvary, the leader in palliative and hospice care, Camp Compass® welcomes children ages 6 to 18 from across the city to share their stories, explore grief, honor loss, and celebrate life.
"Calvary's Camp Compass® is part of our on-going healing programs that engage children, harness the power of ritual, and provide opportunities so they can bond and support each other," said Edgardo Lugo, Director of Bereavement at Calvary Hospital.
"This week features a powerful family remembrance ritual, expressive art activities and a closing ceremony that is simple, fun, and beautiful," volunteered Lugo, a registered Play Therapist Supervisor and Certified Group Psychotherapist. Only hinting at what the closing ceremony would be, Lugo said that this ritual would be unique for every camper, though it would be something that virtually all of us would have done as children.
"Like grief, which is universal but experienced differently by everyone, the activity will be personal and special for each camper, but collectively it will bring comfort, uplift spirits, and provide a sense of continuity for everyone. It will honor both the child who is grieving and the person they've lost."
The five-day camp, which starts today, is located this year at the Bay Terrace Country Club in Bayside, Queens. It is generously supported by the Ho/Chiang, Trimble Family, Mickey Capelli, and Dee Dee Jackson Foundations as well as the Hagedorn Fund, the Alfred E. Smith Memorial Fund, and individual donors to Calvary. This philanthropic support allows the children to attend Calvary's Camp Compass® at no cost to their families.
The Dee Dee Jackson Foundation, a new supporter of Camp Compass® in 2023, is dedicated to programs and services for people who have suffered a significant loss. Its mission is connecting people experiencing grief by providing them opportunities to share stories and build community. Performer Derrick Davis's participation in Camp Compass® (on Wednesday, midday) is made possible by the Dee Dee Jackson Foundation, which also supports Calvary's transformative Music Therapy programs.
"I was the first African American to play the Phantom on the National Tour of Phantom of the Opera. Phantom was the first big Broadway show my parents took me to see as a child. At Camp Compass® I want to say that no matter what's happening in your life, have the courage to keep dreaming. If you dream it, you can be it," said Davis, who has appeared on Broadway, film, and television including Paramount+'s The Good Fight.
"I support the work Calvary does in taking the heart of one who has lost a loved one, arguably the darkest part of the human experience, and allowing loving and compassionate light to gently shine on it again," Davis added.
Each year, Calvary Hospital Bereavement Service hosts approximately 30 group sessions weekly throughout New York for children of all ages as well as adults who have experienced the death of a parent, partner, child, or sibling. Individual bereavement support sessions are also available.
Calvary Hospital also provides support to schools and organizations when there is a death in the community. In addition, it delivers professional development contact hours in grief and bereavement to social workers, mental health counselors, and substance abuse counselors throughout the state through its acclaimed Annual Bereavement Course. Training is also provided to community organizations upon request.