Calvary influences a priestly mission 
(August 22, Bronx, NY) — Collins Ashu, a third-year seminarian at St. Joseph's Seminary (Dunwoodie, Yonkers), was  supposed to go to Omaha in May as part of his formation, but a change of plans led instead to a three-month assignment at  Calvary Hospital, which he said, "shaped my priesthood forever."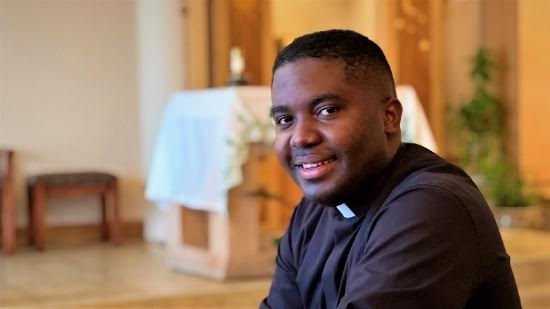 "My first week was alright. By my second week, I had become acquainted with some patients, though I was still tentative about the hospital. In my third week, I encountered people — who though suffering — expressed a lot of joy. Being with them, working with them… I learned to focus on the art of listening," he explained, sitting in the Calvary chapel, where he usually starts his work day praying and meditating.
From Cameroon, this youngest brother among nine children received a law education, although, at age 7, he knew he wanted to become a priest.
"The thought never left me," he said.
Drawn early on to the work done by the St. Joseph's Missionary Society of Mill Hill (London), Ashu came to the United States in 2015, focused instead on diocesan ministry.
Serving the nearby Bronx parish of St. Clare of Assisi this summer, Ashu would often walk to Calvary, spending his morning with individual patients, praying, talking, or sitting quietly with them. In the afternoons, he would get to know their families. They talked about a range of topics – food, politics, travel, faith, sports, and the news.
He described many of his interactions with families and patients at Calvary as beautiful and said that his experiences added to "all that has been put into my heart and head" at the seminary, especially as he ministered to Calvary patients from St. Clare's or affiliated St. Francis parish.
"It's hard, though, to resolve anyone's pain," he admitted. "It is good to walk with people, however, in their difficult moments. I try to bring Jesus. All of my Calvary experiences enrich me to be better to other people. Their trials, pain, joys… I keep them all with me."
Serving patients and family members at Calvary Hospital is a rewarding encounter, according to Calvary Director of Mission, Father Chux Okochi, Ph. D.
"You help relieve the pain of others and your own pain as well. It is being a 'wounded healer.' St. Martin de Porres, the patron Saint of Calvary Hospital, said 'Compassion, my dear Brother, is preferable to cleanliness.' The biggest challenge in an environment like Calvary is getting oneself to be patient and to listen," Father Chux added.
Ashu carries with him an experience before Calvary that still weighs heavily upon him: a close friend died in her home following a long battle with cancer. They spent time together in what turned out to have been her final weeks, which he finds hard to talk about.
"Physically, she was not good, but she was a woman of solid faith, and when I saw her for the last time, she was happy. On her bed, while she was dying, she was sharing her faith, ministering to me really, and strengthening the Church." He sighs, "I'm still mourning, still grieving," then smiles, "But there's no doubt in her case, she is actually in the place where we all want to go. So I am also rejoicing."
Ashu, who completed his service to Calvary at the end of July, returns to the seminary for studies in the fall. The great Nebraska road trip may have gone off course, but his love of service to others still has him traveling in the right direction. "My parents are in Ohio, so I can go there. And as a seminarian from Cameroon now in New York, I am among people in need from all over the world, so in that sense, I am a missionary."
About Calvary: Calvary Hospital is the world leader in providing expert medical care for people living with palliative care needs or requiring end-of-life care. The model and benchmark for hospice in America, Bronx-based Calvary provides unmatched loving, compassionate care that relieves suffering and improves the quality of life of approximately 6000 mostly terminally ill patients (and their families) annually throughout Greater New York, providing a wide range of inpatient and outpatient medical interventions and support services.