Retired teachers celebrate their Golden Anniversary at Calvary Hospital
(Bronx, NY August 19) — Yonkers couple Robert and Carole Sajdak celebrated their 50th Wedding Anniversary today by renewing their vows and exchanging rings again in an outdoor ceremony at Calvary Hospital, surrounded – in person and by video – by friends and family.
Their recommitment was officiated by their parish priest, Fr. John McHugh, OFM Cap, of Sacred Heart (on Convent Avenue). Mr. Sajdak is receiving care and treatment at Calvary.
Both lifetime residents of Yonkers are retired teachers. (Carole, nee Cotter, was born at the Stapleton Naval Hospital on Staten Island and lived in Brooklyn until she was three.) 
They met and worked at what was then the High School of Commerce (it's Palisade Preparatory School today), in the late 60s. Robert taught seniors accounting, typing, and business law; Carole instructed freshman and sophomores in English, Spanish, and math.
Nearly everyone teaching at Commerce was young, according to Carole. 
"And 80% were women pushing Bob to court me. They said if Bob asks you out, you have to go," Carole recalled.
"So, I married Mr. Bashful," she laughed.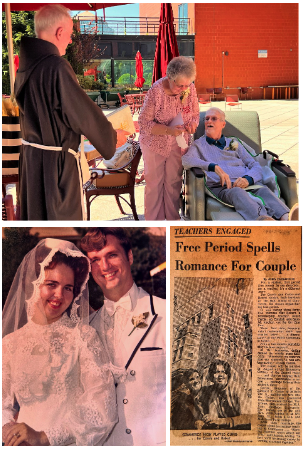 Bashful, maybe, but smitten, certainly. And Bob was exacting, too.
Unbeknownst to him, Bob's students were planning his birthday party. It was March 30th and Carole was standing on a table in the cafeteria, helping and hanging crepe paper.
"He snuck in the back door. I'll never forget it. He asked me to go on a date with him on May 1st. I could not believe it. Who, in their right mind, asks a girl on March 30th to go out on May 1st?" Carole roared. 
They went to a big dance at the Polish Community Center.
"I thought it was going to be a little social thing, but there were 500 people in a huge hall! I think everyone knew him."
One month later, on June 6th, Bob asked Carol to marry him. They were engaged on September 16th. And on August 19, 1972, they were married.
The wedding occurred at Sacred Heart. Half the church, filled with yellow flowers, was packed with Bob's family; Carole's side contained her six family members and their Commerce students, who overflowed the pews. Bob's brother, a Marist priest, officiated. The couple honeymooned in Edmonton, Canada, and drove across the Rockies, with memorable stops at Lake Louise and Angel Glacier.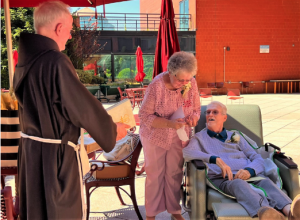 Bob and Carole have two children, Aniella and Richard, and five grandchildren. After Commerce, Carole taught at Sacred Heart High School. Robert continued his career at Mercy College and the Westchester School for Special Children.
About Calvary: Calvary Hospital is the world leader in providing expert medical care for people living with palliative care needs or requiring end-of-life care. The model and benchmark for hospice in America, Bronx-based Calvary provides unmatched loving, compassionate, care that relieves suffering and improves the quality of life of approximately 6000 mostly terminally ill patients (and their families) annually throughout Greater New York, providing a wide range of inpatient and outpatient medical interventions and support services.