Long Island NY Hospice & Palliative Care
Long Island residents can obtain our hospice & palliative care in various ways.
Industry Leading Hospice and Palliative Care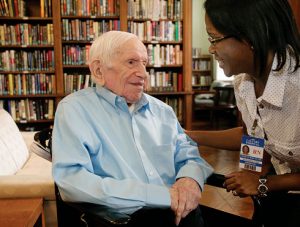 Our industry-leading Palliative Care and Hospice Care, CalvaryCare® is available in the homes of our patients throughout Long Island NY and as well as within our four inpatient facilities throughout the New York metro-area; at Ozanam Hall of Queens Nursing Home in Bayside, at our Bronx inpatient hospital, at our 25-bed Brooklyn campus, and in Manhattan at the Dawn Greene Hospice at Mary Manning Walsh Home.
Calvary is the only hospice care provider on Long Island backed by its own hospital. As patients' medical needs evolve, Calvary is able to easily transfer patients between home hospice care and our acute care inpatient facilities.
Calvary Hospital Hospice
Offered throughout Nassau County on Long Island, Manhattan and the five-boroughs, Calvary Hospital Hospice is a Medicare-certified Hospice program, which provides care for patients through an interdisciplinary team designed to meet the needs of patients with a terminal prognosis.
Home Hospice Care in Long Island NY
Through Calvary@Home, we provide home care and home hospice to patients throughout Nassau County.
In the home setting, Calvary@Home partners with patients' families to promote quality of life, address pain management needs and other symptoms. Our team also works to help prepare both the patient and their loved ones for what to expect in the final days of life.
Published data verifies that Calvary's Home Care and Hospice program continues to exceed national and regional measures for the relief of symptoms.
Calvary Hospital was the best
"We always heard that Calvary Hospital was the best at treating pain. But we had no idea you would relieve our family's pain as well."
– Lonnie Weigele
Personalized Assistance
The Community Outreach staff is available to answer any questions or concerns you may have regarding Calvary's services and to assist in the referral process. We invite you to call is with questions.
Monday through Friday
9:00am – 4:30pm
(718) 518-2300