Medical Pioneer and Compassionate Healer, Dr. Michael Brescia
January 11, 1933 – April 19, 2023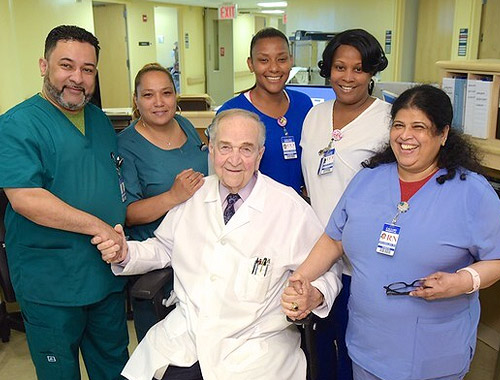 Bronx NY, April 21 — Dr. Michael Brescia, a kidney dialysis pioneer and co-founder of modern palliative care and hospice care, died Wednesday evening in his home in Westchester County, NY at the age of 90, surrounded by his immediate family, it was announced today by New York's Calvary Hospital, where he was Medical Director Emeritus.
Dr. Brescia, with Dr. James Cimino, developed the Brescia-Cimino fistula in the 1960s at the Bronx VA Hospital, an invention that provides safe and reliable vascular access for dialysis that has saved the lives tens of millions of people. Their life-changing findings were published in The New England Journal of Medicine in 1966, sacrificing personal financial gain so their monumental advancement in medicine could benefit the world.
Dr. Brescia is widely considered a co-founder of modern hospice and palliative care in America. He joined The House of Calvary in the Bronx, now known as Calvary Hospital, in 1962 as an attending physician, transforming the New York institution (founded in 1899) into a world-leader in end-of-life medical care. He was appointed executive medical director in 1994, a position he held until December 2019.
Calvary Hospital Board Chairman Mr. John Decina said Dr. Brescia's visionary leadership and compassion were unparalleled: "Some of us talk one way and live another. Dr. Brescia was one of very few people on this earth who truly, truly walked the talk. The embodiment of Calvary's mission, he was brilliant and embraced life – and everyone – fully."
Chief Executive Officer, Dr. Christopher Comfort, shared, "The medical community will feel the effect of Dr. Brescia's loss for years to come. He will be remembered as a true innovator whose significant medical advancements saved many, and as a comforter and healer who cared deeply for lives who could not be saved. We at Calvary Hospital will continue his profound legacy of pioneering hospice and palliative care and treating everyone like family, with love, compassion, and dignity, and never abandoning them."
For more than 50 years, Dr. Brescia's faithfully served thousands of patients at Calvary Hospital, the nation's only fully accredited acute care specialty hospital devoted exclusively to providing palliative care to adult patients with advanced cancer and other life-limiting illnesses.
Dr. Brescia was also a Director of Renal Services, Director of Hemodialysis Unit, and Nephrology Consultant at the Bronx VA Hospital, St. Joseph's Hospital, and Our Lady of Mercy Hospital. He served as a Nephrology consultant to the New York City Health Department and was a Clinical Assistant Professor of Medicine at New York Medical College (Valhalla, NY) and a visiting lecturer at Fordham University.
Dr. Brescia was the recipient of numerous awards and commendations including the Ellis Island Medal of Honor, a Federal Government Commendation for Advances in the Field of Hemodialysis, the AMA Physician Recognition Award, and more.
He was a member of the American Medical Association, NY State Society of Nephrology, American Society of Nephrology, International Society of Nephrology, and the American Society for Artificial Internal Organs. A prolific author, Dr. Brescia's articles appeared in The New England Journal of Medicine, ASAIO Journal, Journal of the American Society of Nephrology, and The New York Times.
A devout Catholic and firm believer in the dignity of human life, Dr. Brescia received the Good Samaritan Award from the National Catholic Development Council and the Catholic Health Association Award, In November 2020, Dr. Brescia was awarded with The Calvary Medal and the Annie Blount Storrs Award.
A graduate of Fordham University and Georgetown University School of Medicine, Dr. Brescia interned at Meadowbrook Hospital (NY) and completed his residency at the Bronx VA Hospital (NY). In 1994 and 2009, he received honorary doctorates from Fordham University (NY) and The College of New Rochelle (NY), respectively.
Dr. Brescia is survived by his six children Dr. Michael Brescia, Dr. Mark Brescia, Dr. Andrea Brescia, Monica Mekeel (Michael), Christopher Brescia Esq. and Marisa Viggiano; Nine Grandchildren Dr. Sara Brescia, Haley Brescia, Esq., Presley Mekeel, Clinton Mekeel, Maggie O'Brien, Michael O'Brien, Timothy O'Brien, Sophia Viggiano, Robert Viggiano. Dr. Brescia was predeceased by his beloved wife Monica and son-in-law Timothy O'Brien.
Visit the Memorial Page for Dr. Brescia
Share a Message or Remembrance