National Hospice and Palliative Care Month
Throughout November, National Hospice and Palliative Care Month, hospitals across the country are raising awareness about hospice and palliative care. This year, the official theme is "It's About How You Live."
This theme has particular resonance to Calvary Hospital, where our tagline is "where life continues." Making every day meaningful to our patients and their families, is integral to our mission, whether we care for a patient for one day, one week, or more than two months.
What Is Hospice and Palliative Care?
Hospice and palliative care have both existed for decades. Though they can be given to the same patient at once, it's important to understand that they are two distinct modalities of care. Today, there are more than 1.4 million people living in hospice care facilities in the U.S. alone. Hospice facilities can function in various ways but they share one key objective: improving the quality of life for each patient in their care.
Hospice Care
Hospice is a philosophy for end-of-life care rather than a specific practice or place. For patients who are no longer pursuing curative treatment and want to spend their final days at peace and in comfort, hospice should provide patients and their caregivers with as much support as possible.
Hospice ensures that patients can live their life how they want, where they want and with whom they desire. This can be in the patient's own home, a family member's home, nursing home or in a hospital setting. Learn more about Hospice Care.
Palliative Care
Similar to hospice care, palliative care focuses on the quality of life for individuals with severe, life-altering diseases. The difference is that, unlike hospice care, it can help anyone with a significantly debilitating illness regardless of prognosis. Patients can even receive palliative care while other ongoing treatments are being applied. This means the term applies to both hospice patients and those whose illnesses pose a strong challenge to living comfortably.
Learn more about palliative care.
How Hospice and Palliative Care Make a Difference
There are many ways hospice and palliative programs help people:
Hospice and palliative care professionals work to remedy symptoms including pain and shortness of breath, to maintain quality of life.
Emotional and spiritual support is also an important component of hospice and palliative care, giving patients and their loved ones the caring support they need to maintain the parts of their life that are most meaningful to them personally.
Awareness & Support for Hospice and Palliative Care Patients
During National Hospice and Palliative Care Month, we at Calvary Hospital are doing our best to raise our voices and remind the public how much these programs mean to patients and their
families they serve.
We are also doing our part as we try to raise awareness about legislation that affects these programs, as well as what others are doing to contribute to the overall mission of providing care to improve quality of life.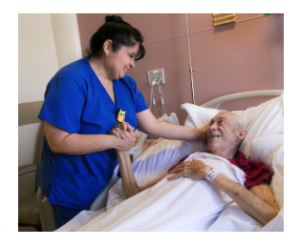 This year, the Palliative Care and Hospice Education and Training Act (H.R. 647/S.2080) has been making its way through Congress. This Bill has garnered significant bipartisan support.
On October 28th, the House passed the Bill. Once approved by the Senate, it would expand funding for education and training, helping professionals provide better care for hospice and palliative patients.
Calvary's Global Leadership
Calvary is the first and only hospital in the U.S. dedicated to providing palliative care to patients with cancer and other life-limiting illness. For 120 years, we have never wavered from our mission of caring for the medical, emotional and spiritual needs of our patients and their families. We believe that no person should have to be in pain or be uncomfortable at the end of life.
In October, a contingent of doctors and nurses from Japan spent a week at Calvary, learning about our methods of delivering excellent care for patients at end of life, while sharing their expertise and perspective with us. This is one of many partnerships that Calvary maintains in order to share our expertise internationally as we continue to improve our cutting-edge skills in end-of-life care.
At Calvary, we appreciate the privilege of caring for those who most need it in the most difficult time of their lives. We know we only have one chance to do things right.