Calvary Celebrates Nurses Month 2023
This year's Nurses Month theme, "You Make a Difference," reflects gratitude and positivity toward our nursing community.
At Calvary, we are inspired by the dedication and commitment of our nurses, who make a significant difference in the lives of our patients and their loved ones every day. As a family, we are deeply grateful for their tireless efforts and unwavering passion and take great pride in their work.
Our nurses' dedication drives our hospital forward, and we are honored to have them on our team. We understand their hard work and unparalleled passion are essential to fulfilling our mission, and their contributions humble us.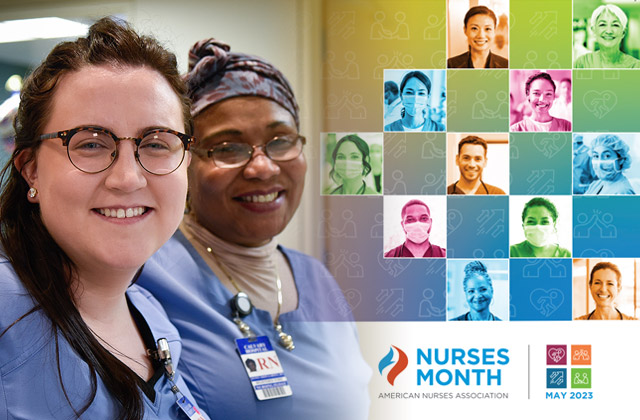 Celebrating Nurses Month – Recognizing the Value of Nursing
Nurses Month honors the invaluable contributions of nurses. The American Nurses Association (ANA) designated the holiday in 1993 to increase public awareness of their critical work and the value of nursing in our society.
This month-long celebration provides an opportunity to highlight the dedication and hard work of nurses and their critical role in patient care and to promote greater investment and support for the nursing workforce.
At Calvary, we are proud to join in recognizing and celebrating nurses who significantly impact the lives of our patients and families.
Celebrating Our Nurses: Spotlighting the Nurses of Palliative and Hospice Care
Nurses are the backbone of the healthcare system, providing compassionate care and expertise to patients in all stages of life. Nowhere is this more evident than in palliative and hospice care, where nurses play a crucial role in helping patients and their families navigate the difficult end-of-life journey.
Palliative and hospice care nurses are specially trained to provide comfort, support, and pain management to patients with life-limiting illnesses. They work closely with patients, families, and interdisciplinary teams to provide holistic care that addresses physical, emotional, and spiritual needs.
At a time when patients and families are facing tremendous emotional and physical challenges, palliative and hospice care nurses offer a source of comfort. They are skilled at managing symptoms and providing end-of-life care that respects the patient's wishes and enhances their quality of life.
At Calvary, our nearly 500 dedicated nursing professionals, including RNs, Nurse Practitioners, CCTs, and Unit Secretaries, are the driving force behind the exceptional end-of-life care we're known for.
Calvary Nurses – The Heart of Our Care Program
As we celebrate National Nurses Month, we are asking you, our larger Calvary Community, to help us shine a light on the incredible work of our Calvary palliative and hospice care nurses and nurses around the world. Their dedication and commitment to their patients and families inspire us all.
Join us in honoring and celebrating the exceptional work of nurses! We invite you to take a moment to express your gratitude and share your personal experiences with a nurse. Whether it's a testament to their unwavering dedication, compassion, and care, or a more general message, we would love to hear it. Your comments will be shared with our nursing team as well.
This Nurses Month, we celebrate these remarkable people
Join us in recognizing and honoring their work by making a gift in support of our mission or by sharing a message to show your appreciation.
Your comments will be shared with our nursing team!
DONATE WITH MESSAGE SHARE MESSAGE ONLY
At Calvary, Nursing is not just a career. It's a calling.
Are you or a nurse you know interested in joining our remarkable team?
Calvary is hiring Inpatient and Outpatient Palliative and Hospice RNs; this is your chance to move to a world-leading organization renowned for unmatched patient care that values compassion, dignity, and non-abandonment – and you!