Trapping Faith, Hope, and Love
Two brothers, and their special plants, bring comfort to terminally ill patients
(Bronx, NY, Nov. 28) — Charles Darwin called them one of the most wonderful plants in the world. Every autumn they adorn Calvary Hospital patients' rooms, delivered by brothers who emanate as much light as these perennial herbs love to soak up.
The plants are dionaea muscipula, known all over as Venus Fly Traps. The brothers are 10-year-old Sebastian and 13-year-old Lukas Leipold, from New Rochelle, two of the best known young men on Calvary's fourth floor!
The plants represent the love, compassion, and constant care the two had for their grandmother, Lyn, who lived in Calvary's Room 422 for a short time in September 2018 before her passing. The duo returned this fall with a new crop of fly traps for patients and their families, and copies of a just-published children's book they authored with their mom about their experience at Calvary four years ago.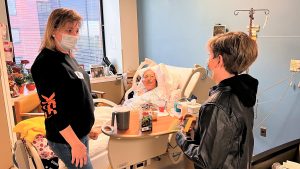 When My Grandma Goes to Heaven (Archway Publishing) is a poignant tale about enduring love, suffering, and joy and how a little gesture of compassion, a house plant, provided hope to people struggling through life's ultimate challenge.
"When my grandma was at the Hospital, she would sleep with her mouth open, and I was afraid a bug would land in her mouth. I thought of this plant mom told me about. It would protect her, even if we could not be with her. So we went to the grocery store and bought every fly trap we could, for my grandma, and other people on the fourth floor. A lot of people sleep with their mouths open," Sebastian explained
"I told my grandma's neighbors about my plant idea and they and their families donated money so I could buy even more," he added.  And, just like that, a tradition was born.
"They said, 'We believe in what you are doing!'"
In the years since, the Leipold family – with help from iHeart's Z100 radio, Stop-N-Shop, Calvary President Frank Calamari, and Rocket Farms (near San Francisco) – has raised over $2000 and distributed 210 plants.
"One of my mom's Calvary neighbors was a young man in his 20s. After Sebastian delivered a plant to him, his mother wrapped her arms around Sebastian, crying, and told him he was brighter than the sun," said Malissa Scheuring Leipold, Sebastian and Lukas's mom. 
"The interactions that have occurred through this, amid such suffering by everyone, have been beautiful," she added.
The process of writing the book helped the Leipold family process their time at Calvary and grieve the loss of Lyn.
"Lukas, the older, quieter one would sit with his grandmother and do homework on her hospital bed after school. Sebastian, the communicator, would walk the halls and talk to everyone. We all deal with death and dying differently," said Dr. Scheuring Leipold, an educator. 
Copies of the book, for sale through Amazon, are available to review at the Hospital's Family Center.
"None of us ever thought our encounters at Calvary would have unfolded this way and into so many blessings. We never know God's plan. It's always more than we can imagine," Dr. Scheuring Leipold added. 
About Calvary: Calvary Hospital is the world leader in providing expert medical care for people living with palliative care needs or requiring end-of-life care. The model and benchmark for hospice in America, Bronx-based Calvary provides unmatched loving, compassionate, care that relieves suffering and improves the quality of life of approximately 6000 mostly terminally ill patients (and their families) annually throughout Greater New York, providing a wide range of inpatient and outpatient medical interventions and support services.