Become a Part of Our Family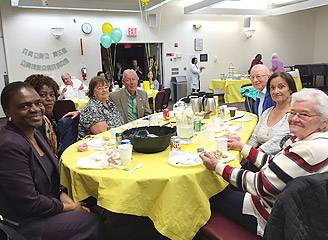 Calvary Hospital volunteers are special people — of all ages, ethnic and religious backgrounds — who devote their time, talents and energy to our patients.  For example, our volunteers sit with patients, deliver and read mail to them, distribute ice water, write letters for patients, or provide companionship.  They are also an integral part of patient/family events, such as birthday parties, special events, and holiday celebrations.  Volunteers also provide clerical assistance to Calvary's various departments.
All of these services and special touches the volunteers provide, improve the quality of life for our patients.
Click here to volunteer at Calvary's Bronx or Brooklyn campus
Click here to volunteer with Calvary@Home throughout the metropolitan New York area