Calvary Hospital Celebrates National Social Work Month
Since 1963, the National Association of Social Workers (NASW) has used Social Work Month to encourage public support and interest in social work as a profession.
Following an unprecedented year in which millions of lives have been turned upside down by COVID-19, NASW ushers in their annual celebration in a vastly different world. It is particularly fitting 2021's theme is "Social Workers Are Essential"
What Social Workers Do
Social work practice consists of the professional application of social work values, principles, and techniques to one or more of the following ends:
Helping people obtain tangible services
Counseling and psychotherapy with individuals, families, and groups
Helping communities or groups provide or improve social and health services
Social Work at the End of Life
Compared to other hospitals and settings, social workers at Calvary play a bigger role than most people realize. Social workers have always been essential to the Hospital's family-centric approach to patient care, which focuses on addressing their medical, emotional, and spiritual needs.
"Caring for a family member or friend who is seriously ill, especially at the end of life, can take an immense amount of physical and emotional energy," said Debbie Feldman, JD, LCSW-R, Vice President for Pastoral Care, Bereavement, and Family Care Services. "Our family care team is here to help people both navigate and cope with one of the most challenging times in their lives."
At our Bronx and Brooklyn campuses, these healthcare professionals are called "Family Care Practitioners." This title change was made to more accurately describe the multi-faceted role they play with the multiple family members that are affiliated with each patient.
Early in the pandemic, the NYS Department of Health banned all visitation to hospitals. Calvary's family care practitioners recognized the importance of keeping patients and their family and friends connected and adapted immediately. 
A virtual call team was put together to reach out to the patients' loved ones to find out which virtual modes of communication they could use. IPads and cell phones were gathered and equipped with the necessary apps and the team went to work placing the calls, making sure every patient and family who wanted virtual calls received them. 
While limited visitation was allowed in June 2020, the pandemic has continued to make visitation remain impossible for many. The virtual call team continues to work diligently to keep patients and families in touch.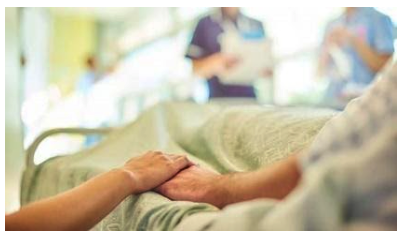 Social Work with Home Hospice Patients
Hospice social workers visit patients where they live to provide education and support. They focus on whatever the patient or family members want or need. Hospice social workers support and assist in a variety of ways. They do everything from mediating between siblings and supplying information about caregiving, to dealing with anticipatory grief, helping parents tell their young children that they will die soon, or facilitating the completion of a Health Care Proxy. 
"Under the best of circumstances, hospice social workers often have to make use of a variety of clinical and community resource/advocacy skills with people who are experiencing one of the most anxiety-producing and stress-filled times of their lives," said Kate Mohan, LMSW, Assistant Director of Support Services for Calvary Hospice.
"The pandemic ravaged New York during those early months. Calvary Hospice shifted and adjusted the way we provided care, using technology and creativity to meet the needs of our patients and families.
"Ryan, one of hospice social workers, spent hours calling 40 funeral homes before he was finally able to find one willing to take the body of our deceased patient.
"In another case, the widow of a home hospice patient who had just died, panicked and called 911. When police arrived, there was great confusion as to what to do next. Social worker Juliet was on-site within 25 minutes to help the wife and police navigate this uncharted territory. 
"These two examples demonstrate the kind of diligence, commitment, and perseverance is a common characteristic of Calvary's field staff."
Throughout the pandemic, Calvary hospice social workers – clad head to foot in PPE – visited patients in their homes, remaining flexible and responsive to the varied needs they find when they arrive at the patient's homes.   
Social Workers Are Essential
Whether they work with children or adults, or whatever issue they specialize in, social workers are indeed essential. CalvaryCare® would be a mere shadow of itself without the critical role these professionals play in delivering our signature care to thousands of patients and families each year.