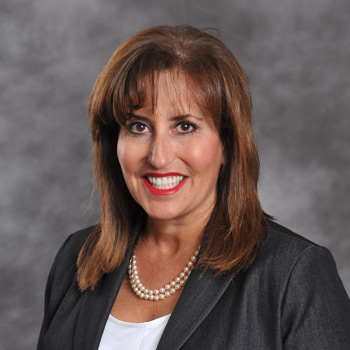 Debbie Feldman, JD, LCSW-R
Administrator, Family Care Services
Debbie Feldman is the Administrator, Family Care Services for Calvary Hospital. Under her leadership, Calvary Hospital has:
transformed the Family Care department (formerly Social Work) to better address the needs of families in crisis
created the FIT (family intervention team) model to quickly and effectively mitigate family issues that can quickly spiral out of control in a healthcare setting
established the Family Care Center at Calvary's Bronx campus in 2004, the first facility of its kind to focus on the needs of family members. The FCC is a testament to Calvary's focus on caring for our patients' families and in using our expertise to ease pain and suffering
Ms. Feldman is a member of several professional organizations: the National Association of Social Workers Academy of Certified Social Workers, New York State Council on Divorce Mediation, American Bar Association, and the New York State Bar Association.
Her licenses and certifications include:
New York State Bar Admission
Certified Divorce Mediator in accordance with the requirements of the Association for Conflict Resolution
Clinical Social Worker, New York
Academy of Certified Social Workers
New York State Certified Social Work
Ms. Feldman joined Calvary Hospital in 1988. She is a highly sought after speaker at national and local healthcare, Social Work and legal groups. Her presentations have focused on subjects such as: Assessing and Dealing with the Needs of Families in Crisis in a Palliative Care Setting; Psychosocial Intervention with the Terminally Ill and Their Families; The Role of Social Work in a Terminal Care Facility; Why C.A.R.E.? A Training Model for Staff/Family Communication; DNR vs. Dr. Kevorkian: Are Your Values Against the Law?; and Bereavement in the Health Care Setting.
She was graduated from Union College (Schenectady, NY) with a Bachelor of Science, Yeshiva University Wurzweiler School of Social Work with a Master of Social Work, and the Pace University School of Law, with a Juris Doctorate, Cum Laude. She also obtained an Advanced Clinical Social Work Certificate from Hunter College.
Professional Commentary
Ms. Feldman provided a peer review of the book, "Group Work: Skills and Strategies for Effective Interventions," by Sandra Brandler and Camille P. Roman (3rd Edition, 2016)