Historic Challenge Heroic Response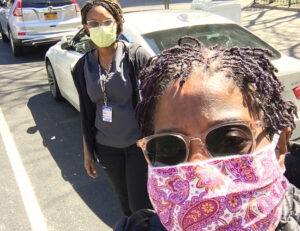 Calvary faced the challenge of a lifetime when the pandemic hit. Pulling together from every department, in our hospital and in the field, our entire Calvary community responded with fortitude, tenacity and compassion in equal measure.
We are proud of our heroic staff that still cares for upwards of 600 patients and families a day, an increase of nearly 40% since the global health crisis erupted.
Vital to our response was our preparedness.
Weeks before the surge, our Bronx and Brooklyn Campus capacity was expanded by 50%, bringing our bed count to over 400. We increased our nursing teams and reassigned staff so that there was no interruption in inpatient care or the support we provided grieving families.
When the Department of Health directed hospitals to curtail visitors, our nurses, Family Care staff, chaplains, bereavement counselors and Calvary Care Technicians worked 24/7 to fill the void so that no patient was ever abandoned.
Calvary@Home cared for most of our COVID-19 patients. In fact, they were one of the first hospice providers in the region to admit patients with the novel coronavirus.
Our hospice teams never wavered. Dressed in disposable PPE – which they changed after every visit – they put personal concerns aside to bring CalvaryCare® to dying patients in private homes and nursing homes all over metro New York.
There are so many heroic examples…
One hospice social worker rode her bike four miles to comfort an elderly woman who was all alone when her husband passed.
Another social worker spent six hours calling 30 funeral homes to find one willing to take our patient.
A Calvary nurse spent her day off with her nursing home hospice patients to help them celebrate Mother's Day.
We helped families stay in touch with loved ones via cell phones and iPads. Our Spiritual Care staff escorted visitors to critical patients with love and moral support. And all our bereavement groups were available online for those in need.
Our infection control experts implemented extensive safety protocols. We were one of the first hospitals to initiate temperature screening for everyone who entered the facility. At the Bronx campus, COVID-19 patients received special care in an isolated unit, thereby protecting the health and well-being of our other patients and staff. We cohorted or isolated patients suspected of having COVID-19 to protect our fragile patient population.
Our leadership teams worked shoulder to shoulder to provide support.
To keep our staff safe, Calvary consistently exceeded CDC guidelines for PPE. Our innovative inventory management system insured that we had ample N95 masks, facial shields and gowns for everyone who needed them.
As the pandemic took its toll on our heroic staff, we responded with bereavement support, spiritual care, PTSD counseling, and free meals.
Through July 5, we provided more than 42,660 meals to our staff!
"Our Hospice teams are compassionately and courageously going out into the community, and into that great unknown, are providing care for patients in the spirit of the mission of Calvary. I believe this may well be Calvary Hospice's finest moments."
Nancy S. D'Agostino, RN, MSN
Vice President for Community Patient Services
"Coming to work gives me a sense of purpose during this time of uncertainty."
Lisa Plaza, RN, BSN, MPH
"This is our calling. This is what it means to be a nurse. No matter what the risks are, we care for the sick and dying"
Marisa Viggiano, RN