Historic Challenge, Heroic Response
Calvary faced the challenge of a lifetime when the pandemic hit. Pulling together from every department, in our hospital, and in the field, our entire Calvary community responded with fortitude, tenacity, and compassion in equal measure.
We are proud of our heroic staff that still cares for upwards of 600 patients and families a day, an increase of nearly 40% since the global health crisis erupted.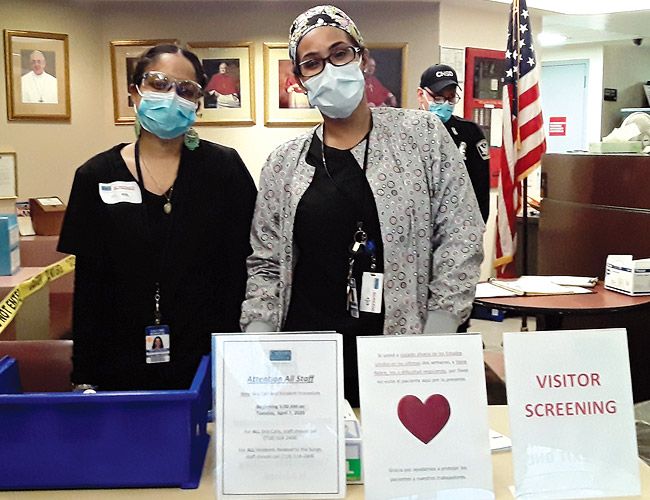 Our Leadership Teams Worked Together To Provide Support
To keep our staff safe, Calvary consistently exceeded CDC guidelines for PPE. Our innovative inventory management system ensured that we had ample N95 masks, face shields, and gowns for everyone who needed them.
As the pandemic took its toll on our heroic staff, we responded with bereavement support, spiritual care, PTSD counseling, and free meals.
COVID-19 Scams to Look Out For
The COVID-19 crisis has put us all under pressure. Unfortunately, just as with previous disasters, scammers take advantage of our genuine fears and concerns.
Most of the scams circulating are old scams retooled for the current situation, here are some to look out for…
We would consider it an honor to pray for you and those you love
If you would like us to pray for someone special in memory or for a loved one, send us the names of your loved ones with your prayer request here:
Calvary Hospital Honors All Of Our Nurses And Frontline Workers
Our nurses have always been the backbone of our care program. This year, our nurses and entire Calvary Hospital staff have been in the trenches fighting the war against COVID-19 with commitment, grace and compassion.
Spotlight On Nurses
"Becoming a registered nurse taught me how to care for my patients' bodies. As a CPE-trained chaplain, I can care for the mind and spirit as well."
Calvary has always known what a terrific nursing department we have. This year, we have profiled 14 nurses to date, including Nancy Schoener, RN, NP. As Director of Infection Control, Ms. Schoener has played a critical role in leading our response to the pandemic.
Inspire And Influence: Share Your Story With Us
Calvary Hospital provides care, compassion, and comfort to thousands of patients and families every year.
We receive emails, kind notes, and handwritten letters from friends of Calvary sharing their experiences with our care and thanking us for the care and compassion we provide.
We want to personally invite you to share your story with us!
Wendy Dackson: Remembering Her Sister
For seven weeks from late 2018 to February 2019, Wendy's beloved sister, Kim, was one of our patients.
"You not only cared for Kim, you cared for me as well."
Wendy met Banjo, our facility dog, just a few days before Kim died. Wendy credits Banjo for helping her deal with her sister's death. When the pandemic hit, Wendy wanted to support our staff. An expert sewer and crocheter since age four, Wendy has made 450 mask "extenders" to date, so that our staff can wear surgical masks comfortably all day.
What Inspires You To Give To Calvary?
"I believe there continues to be a great and growing need for an organization like Calvary that provides end-of-life care in a professional and distinguished manner while unburdening families of the stress related to the cost and planning of this specialized care."
Thanks To All The Donors & Friends Of Calvary Hospital
In homes or hospital settings, Calvary's holistic approach is taking on heightened relevance right now, enveloping the needs of the body, mind and spirit. Calvary is a blanket of comfort for our community thanks to the support of our friends who sustain Calvary's mission.
We Are Truly Grateful
Calvary salutes the many individuals, companies and community groups who rallied to support us through this crisis.
From nourishing meals, refurbished iPads, and urgently needed PPE to heartfelt thank-you notes and financial donations, WE ARE TRULY GRATEFUL.
This outpouring has buoyed our team through long, stressful shifts over many weeks, and for some, heartbreaking losses suffered in their personal and professional lives.
Read the full issue of Crossroads Summer 2020
To download/view the Crossroads Summer 2020 PDF, click the link below.