Celebrating Social Work Month 2020:  "Generations Strong"
Celebrated each March in the United States, National Professional Social Workers Month offers us an opportunity to spotlight the extraordinary people who serve in this essential helping profession. The 2020 theme, "Generations Strong," refers to generations of social workers who have made a difference in the lives of millions of people.
Today, Social workers serve a variety of roles in varied settings. Medical social workers assess patient and family situations and consult with other healthcare workers to provide the best services, care, and comfort for patients and support services for family members.
Social Workers at Calvary
Social workers at Calvary Hospital and Calvary@Home have a different role than those in most healthcare settings. In most hospitals, social workers help patients transition to their next level of care. At Calvary, our social workers are integral to the caregiving team, providing support and comfort to both patients and families. It is why our inpatient social workers are called family care practitioners, and why our home hospice patients and families become so close to their assigned social workers.
It is also why we have dedicated our Family Care Center (FCC) at the Bronx Campus and facilities at The Dawn Greene Hospice and Ozanam Hall where family members can find quiet, soothing spaces allowing them a few moments of respite from the patient rooms.
"Social workers and family care practitioners – as we call our inpatient social workers – are key members of our care teams because of Calvary's special mission of caring for people who are facing the end of life. We meet patients and families at one of life's most stressful and difficult moments," explained Debbie Feldman, JD, LCSW-R, Administrator, Family Care Services.
By the time patients are referred to Calvary, they may be exhausted by navigating various healthcare facilities and insurance coverage. Our social workers cannot change the patient/family situation, but they can listen and help overwhelmed family members sort out priorities and find resources for additional assistance.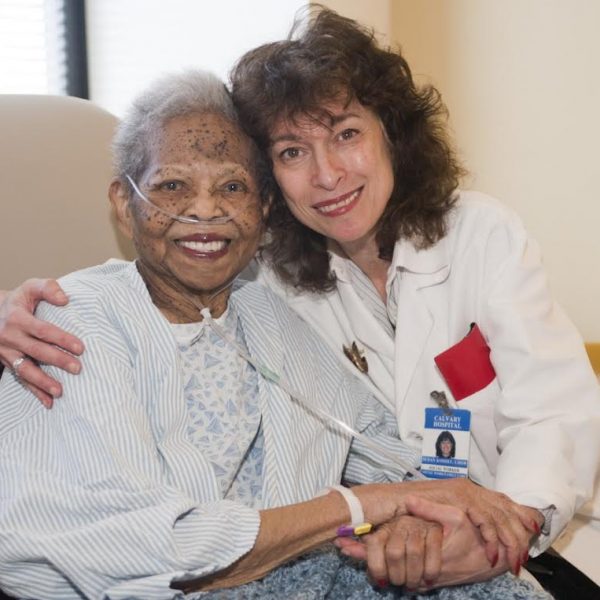 Support Groups and Special Services at Calvary Hospital
At Calvary, a variety of services are available to family members. The Family Care Center, which is located at Calvary's Bronx campus, is a place where families may receive supportive counseling services and relieve stress through relaxation services including manicures, yoga, guided meditation and pet therapy.
"A distraught young wife and mother came to the Family Care Center recently," says Stephanie Mastropaolo, LMSW, Coordinator of the FCC. "Her husband, who was nearing the end of life, was the family's principal wage-earner, and she was concerned about their children, their home, and her own small business. I was able to listen to her and provide her the support she needed, letting her know that her feelings of worry and fear are valid.
"In the end, she left the Family Care Center feeling calmer and with a sense of some concrete things she could do to help herself and her children move forward, while still caring for her husband. I am thankful that Calvary gives its social workers the time it takes to provide this kind of counseling and support for those in our care."
Life-limiting illness is very stressful for both patients and their families. Having support and guidance through the process, often from our social work staff, is one of the reasons Calvary Hospital is so appreciated by our patients and families.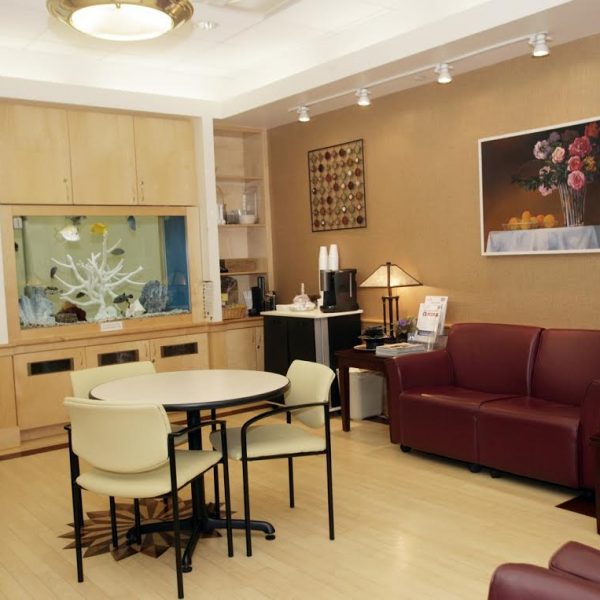 Missy Cohen's husband, Peter, was cared for at Calvary's Bronx campus for 4 months. "As soon as I would walk into the Family Care Center, Stephanie was always there for me. Calvary's Social Work team played a big part in my healing process. I will be grateful to them forever."
Caring for Home Hospice Patients
While the practice of social work for our home hospice patients is similar to the care we provide for our inpatients, it differs in some important ways. Perhaps most significant, social workers often have a longer time to get to know their patients – the average length of stay for home hospice is 40 days, as opposed to 28 days for inpatients – and fewer than ten days for patients cared for at The Dawn Greene Hospice and Ozanam Hall.
Social workers often meet patients at an earlier stage of illness than is true for inpatients, which means that patients are often able to communicate with the social worker. It is not unusual for patients to develop a close, trusting relationship with our social workers. They often will share precious memories and wishes for their end-of-life care, and even their funeral and burial wishes. The longer time frame also gives the social worker the opportunity to prepare families for what to expect as illness progresses. Home hospice requires a partnership between the family and friends who are responsible for most of the care and the hospice team. In some cases, the patient's caregivers may not be able to provide a safe, nurturing environment.
"There is no safety net," says Linda Morellino, LMSW, ACHP-SW, Strategic Relationship Manager for Calvary@Home. "Our social workers are often tasked with identifying and putting into place resources aimed at helping the patient and family to better cope, and to provide support for families as the patient transitions."
Calvary Social Workers
Karen Wilkow, LCSW, ACHP-SW
Brooklyn Campus

"There isn't a day that goes by that I don't feel honored to work with patients and their families at such an intimate time in their lives. Most people I have cared for and worked with have a special place in my heart."
Read more
---
Juliet Sternberg, LMSW, Calvary@Home
"What sets Calvary apart is the glorious lack of a cookie-cutter approach to palliative care, that each person is treated according to their individual needs. I love that about us!"
Read more