COVID-19 Scams to Look Out For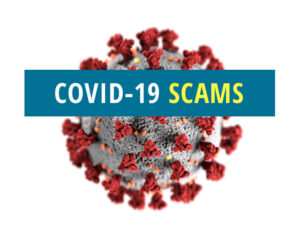 The COVID-19 crisis has put us all under pressure. Unfortunately, just as with previous disasters, scammers take advantage of our genuine fears and concerns.
At Calvary, we care not only for the physical, emotional, and spiritual needs of our patients but also for the wellbeing of our friends, supporters and the wider community. Most of the scams circulating are old scams retooled for the current situation, here are some to look out for:
Tax Identity Theft
In some cases, the IRS stimulus checks that were sent out back in April have yet to be received. If you haven't received yours yet, several legitimate reasons may have caused the delay, including the check going into your tax preparer's account, not having filed a tax return, and checks going to old bank accounts, etc.
However, there have also been some instances of stimulus checks being intercepted. The scammers pretend to be the IRS and are even using social media, trying to get money in exchange for expediting stimulus checks, phishing for information, etc. Never give out personal details on the phone; only enter information on irs.gov directly and always double-check the URL.
You should also note that the IRS does not use the words "stimulus check" but rather "economic impact payment."
Unemployment Benefits Identity Theft
With so many more people applying for unemployment, especially on a temporary basis, many are vulnerable to unemployment benefits identity theft. The scammers are using information they stole earlier to apply for benefits in somebody else's name. When the person applies, their claim is then rejected as a duplicate.
Always take steps to keep your personally identifiable information out of the hands of thieves. If your identity has been stolen, freeze your credit so they can't apply for anything as you, and contact the unemployment agency immediately.
Contact Tracing or Contamination Scam
How contact tracing works: trained person interviews a person with COVID-19 to track down their close contacts, so they can assess their risk and, if necessary, ask them to quarantine.
The CDC explains "Since COVID-19 can be spread before symptoms occur or when no symptoms are present, case investigation and contact tracing activities must be swift and thorough. Case investigation* and contact tracing are fundamental activities that involve working with a patient (symptomatic and asymptomatic) who has been diagnosed with an infectious disease to identify and provide support to people (contacts) who may have been infected through exposure to the patient. This process prevents further transmission of disease by separating people who have (or may have) an infectious disease from people who do not."
They are not using text messages to do this; if you get such a text message, it's a scam. Do not click on the link in this message. While digital contact tracing is being discussed, it's more likely to take the form of an app you download onto your phone. Contact tracers will always call you, they will never use a text message or social media.
Grandparent Scams
Elderly people have often been targeted by scammers who pose as a grandchild or other relative. They claim to be sick and in need of money to pay hospital bills, or in some kind of other trouble.
Needless to say, a pandemic has presented a perfect opportunity for this kind of scam. It's very easy to believe that somebody might call you on behalf of a relative who is in the hospital with COVID-19.
If a stranger calls you saying a relative is in trouble, you should not buy it. Tell them you have to get the money, then call your friend or relative to find out if they are okay. It's worth remembering that elderly people are often more vulnerable to scams and that as a community and family we should look out for each other and talk about this and other common scenarios.
Fake Protective Gear
Another scam that is circulating is the sale of fake protective gear. Cloned websites are convincing people to order masks and hand sanitizer, and then they never receive the shipment.
Always double-check the URL of the website you are on before buying anything online and make sure that the site is secure. Spam emails advertising protective gear, especially masks, are also circulating widely. Make sure to order protective gear from sites you know and trust.
Here at Calvary, healthcare workers are risking their lives every day to treat people with COVID and battle to bring the pandemic under control. Many are spending time away from their families and working long shifts in uncomfortable gear.
At Calvary Hospital, we believe that we should be doing everything we can to help them, and that includes staying safe and protecting you and your loved ones from criminals taking advantage of this terrible situation.
The ITRC is a non-profit organization established to empower and guide consumers, victims, businesses and the government to minimize risk and mitigate the impact of identity compromise and crime.