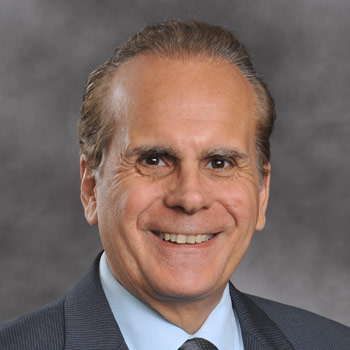 Robert A. Brescia, MD
Director of both the Palliative Care Institute (PCI) and Psychiatric Services at Calvary Hospital
Dr. Robert A. Brescia is Director of both the Palliative Care Institute (PCI) and psychiatric services at Calvary Hospital. For more than 28 years, as a clinician, educator, and researcher, Dr. Brescia has focused on reducing the emotional and psychiatric suffering of patients with advanced disease and their families. This work has included personally treating more than 12,000 patients in their last days of life and lecturing extensively on the psychiatric care of the terminally ill.
Since 2003, when Dr. Brescia became Director, the PCI has become recognized as the world leader in education and research in palliative and end-of-life care and was designated by the National Cancer Institute (NCI) an "international training center in palliative care." Current programs include: training more than 800 medical students, residents and fellows each year from the greater New York area; "Inside Calvary" a national, three-day on-site program in palliative care; and a unique partnership with the NCI and Middle East Cancer Consortium which brings Calvary Hospital's expertise in relief of suffering to caregivers from Israel, Egypt, Cyprus, Jordan, Turkey and the Palestinian Authority. The PCI recently signed a 5-year affiliation agreement with Higashi Sapporo Hospital in Japan to train physician and nurses from Japan at Calvary Hospital through the PCI.
Dr. Brescia is actively involved in research studies involving psychosocial issues of advanced cancer patients and their families. These include an NIH collaborative study with Memorial Sloan Kettering Cancer Center (MSKCC) investigating "The Desire for a Hastened Death in Terminally Ill Cancer Patients," an NIH collaborative study with MSKCC and Fordham University on "Measuring Hopelessness at the End of Life" and an NIH collaborative study with MSKCC on "Family Focused Grief Therapy." He has published numerous articles including, Depression, Hopelessness, and Desire for Hastened Death in Terminally Ill Patients with Cancer; Burden and Benefit of Psychosocial Research at the End of Life; Assessing Hopelessness in the Terminally Ill; Development of the Hopelessness Assessment in Illness Questionnaire; Anxiety in Terminally Ill Cancer Patients.
Dr. Brescia graduated from Fordham University with a bachelor's degree in philosophy and state University of New York-Downstate Medical Center with a medical degree. He completed his psychiatric residency at the New York Hospital-Cornell Medical Center. Dr.Brescia is on the teaching faculty at New York Medical College and SUNY Downstate and is on the Editorial Board of the Palliative and Supportive Care Journal. He resides in Westchester County, NY.
Publications
Research