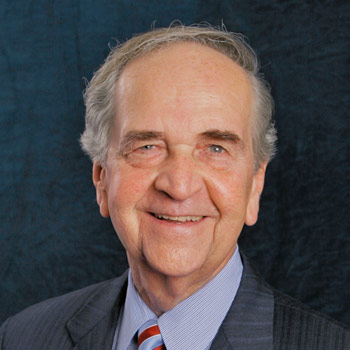 Michael J. Brescia, MD
Member, Calvary Fund Board
Executive Medical Director Emeritus
Dr. Michael J. Brescia is Executive Medical Director Emeritus and a member of the Calvary Fund Board of Directors. He has dedicated the past 56 years of his career serving thousands of patients at Calvary Hospital, the nation's only fully accredited acute care specialty hospital devoted exclusively to providing palliative care to adult advanced cancer patients. In 1962, Dr. Brescia joined the Hospital as Attending Physician and became Executive Medical Director in 1994, a position he held until December 2019.
Dr. Brescia has played an integral role in establishing the pioneering and unparalleled care that is synonymous with Calvary Hospital. Unlike other health care facilities, Calvary focuses on the emotional, psychological, and spiritual needs of its patients. Operating under Dr. Brescia's belief that "when one person has cancer, the entire family has cancer," the hospital has rolled out a diverse and unique array of services year-round for patients and their families such as cancer prevention lectures, bereavement support groups for adults and children, and Pastoral Care in a multitude of faiths. An on-site Family Care Center provides adult and young visitors with a respite during their visits.
Dr. Brescia is internationally recognized for co-inventing the Brescia-Cimino Arterio-Venous Fistula in 1966, a milestone in the field of kidney disease. Within a year after it was first made available, the Brescia-Cimino Fistula helped save the lives of 50,000 patients who previously had no means for access to an artificial kidney. Dr. Brescia sacrificed his own personal financial gain so that this invention could benefit millions of dying renal patients across the globe. Today, the fistula continues to impact the lives of millions of patients with kidney disease.
Dr. Brescia's career has included positions as Attending Physician, Director of Renal Services, Director of Hemodialysis Unit, and/or Nephrology Consultant at the Bronx VA Hospital, St. Joseph's Hospital, and Our Lady of Mercy Hospital. He has also served as a Nephrology consultant to the New York City Health Department. Dr. Brescia has been a Clinical Assistant Professor of Medicine at New York Medical College (Valhalla, NY) since 1979 and a visiting lecturer at Fordham University since 1992.
Dr. Brescia has been honored with the Ellis Island Medal of Honor, Catholic Health Association Award and the Il Leone di San Marco Award for Medicine from the Italian Heritage Committee. Among the professional awards that he has received to date are the: Federal Government Commendation for Advances in the Field of Hemodialysis, AMA Physician Recognition Award, the Good Samaritan Award from the National Catholic Development Council, and the Americus Award for Outstanding Physician Award from Bronx Community College.
Dr. Brescia serves on the Hospital Advisory Council, Subacute Task Force, Mission Leadership Task Force, Subcommittee on End of Life Issues of the Catholic Health Care Network. He is a member of the Board of Directors for Fidelis Care (New York State Catholic Health Plan) and Assistant Secretary of the Board of Trustees for New York Servitas IPA, of the Catholic Health Care Network (CHCN). He is coordinator of International Health Support and Outreach for the Department of Health and Hospitals of the New York Archdiocese. He is a member of the American Medical Association, NY State Society of Nephrology, American Society of Nephrology, International Society of Nephrology, and the American Society for Artificial Internal Organs.
A prolific author, articles by Dr. Brescia have appeared in leading medical and mainstream publications such as the "New England Journal of Medicine," "ASAIO Journal," "Journal of the American Society of Nephrology," and "The New York Times."
Dr. Brescia graduated from Fordham University (NY) with a bachelor's degree in biochemistry and from Georgetown University School of Medicine (Washington, DC) with his medical degree. He interned at Meadowbrook Hospital (NY) and completed his residency at the Bronx VA Hospital (NY). In 1994 and 2009, he received honorary doctorates from Fordham University (NY) and The College of New Rochelle (NY), respectively. Dr. Brescia resides in Westchester County, NY.