Our Stories
Angela Chen, RN
Our Stories: Calvary Nurses
Our Stories: Social Workers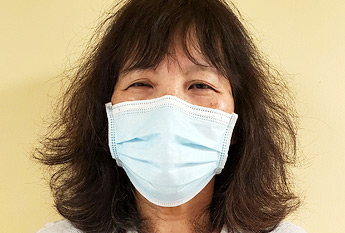 "The goal of enhancing quality of life is the priority for the nursing community during this unpredicted Covid-19 pandemic."
Q: What inspired you to become a nurse?
A: I worked as a hospital medical transcriptionist for 20 years in a busy Emergency Department. I was familiar with the care and treatments the doctors and nurses provided in common and challenging situations, although from a layman's point of view.
I felt very comfortable in that sometimes tense environment, watching the nurses literally going above and beyond to promote health and save lives and tackling different challenging situations every new day. This really interested me and made me understand and appreciate their work. I felt that this is a career that I could embrace and enjoy. So I went back to school and became a registered nurse at age 46!
Q: What brought you to Calvary?
A: I came to work as a RN at Calvary Hospital at the behest of my late sister Lore. She was a Calvary patient 12 years ago (2008). She praised the competent care and compassion she received here so much that she wanted me to relocate from western New York to work at Calvary.
The rest of my family here chimed in as well. I come from a close-knit Asian family where I have never said "No" to my 99-year-old grandmother's requests, so here I am.
Q: Why did you decide to work with patients at the end of life?
A: I have always felt comfortable and in my niche with patients of the older population. Much of my nursing practice upstate was in geriatrics.
Having family members receiving end-of-life care has empowered me to learn more about this type of palliative care. It is about quality of life and providing additional support of care during serious illnesses, not just at the end of life.
Q: Describe the most memorable experience you ever had with a patient or family member at Calvary.
A: My family and I love the care, compassion, and competency provided at Calvary. In addition to my sister, my dear father also needed this special care in 2018. It was the obvious choice for our family to choose Calvary again for end-of-life care.
Q: What qualities are essential to be a Calvary nurse?
A: I am proud and privileged to be a Calvary nurse. Being a nurse here especially warrants an honest and ethical responsibility towards minimizing suffering and stress for patients with serious illnesses.
Q: During this pandemic, what motivates you to come to work every day?
A: The goal of enhancing quality of life is the priority for the nursing community during this unpredicted Covid-19 pandemic.
As a Calvary nurse, I am motivated to come to work because I know that the nurses here are the sole lifeline of critical information between our patients and their families who cannot visit. Only the Calvary nurse can provide comfort to the dying patient and console the grieving public.