Our Stories
Maurice Kowlessar, RN
Our Stories: Calvary Nurses
Our Stories: Social Workers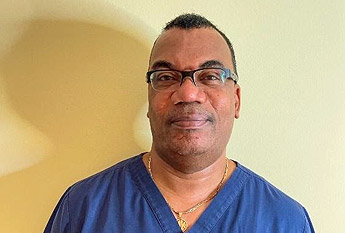 "I feel a sense of fulfillment being able to reach out and empathize in a way that brings comfort when there is despair and grief. As a Christian, I believe I am fulfilling my purpose in life."
Q: What or who inspired you to be a nurse?
A: I was inspired to become a nurse after observing my father suffer from prostate cancer and I was unable to do much to help him. At that point in my life, I decided I needed to acquire the knowledge and skills necessary to become a competent caregiver.
Q: Do you have family that work in nursing or in healthcare?
A: I have inspired my daughter who is currently pursuing a career in nursing. My son works as a Biotech specialist with a Pharmaceutical company presently working on anti-cancer drugs.
Q: Why did you decide to work with patients at the end of life?
A: I decide to work with patients at the end-of-life because it is a unique opportunity to use my skills and years of experience. I wanted to make a positive difference for terminally ill patients who maybe experiencing chronic pain, hopelessness, fear, anger, depression and loss of faith.
Q: How long have you worked for Calvary? What brought you to us?
A: I have been working for Calvary four years now and was introduced by a coworker.
Q: Describe what it means to be a nurse here.
A: It means much to me as a nurse working at Calvary. I am able to utilize my nursing skills as well as compassion and therapeutic communication to make a positive impact in the lives of so many patients who are suffering, as well as their families. I feel a sense of fulfillment being able to reach out and empathize in a way that brings comfort when there is despair and grief. As a Christian, I believe I am fulfilling my purpose in life.
Q: Describe a memorable experience with a patient.
A: One memorable experience I have is when I was taking care of Kathy, a patient with ALS, a nervous system disease that weakens muscles and impacts physical function. As a result of her condition, she was non-verbal. Despite her limitations, I was able to develop a great friendship with her. Eventually, I was able to anticipate her needs when she was not able to verbalize them. This helped to alleviate her frustration and anxiety.
It was rewarding to see her smile of satisfaction when taking care of her. She looked forward to me telling her about how I spend my weekends, vacation with my family and sharing photos. It was a rewarding experience being able to impact the life of a patient even though she was nonverbal. I was saddened by her passing.
Q: What was it like to work here during the pandemic?
A: Working during the pandemic was challenging and stressful especially facing a new strain of a virus. I was worried I might contract the virus and infect others but thank God I was able to render care in a safe environment using PPE to protect myself, the patients, and their families. I was able to witness the recovery of many patients.
Q: What qualities are essential to being a Calvary nurse?
A: There are many qualities necessary for a Calvary nurse. Even though our nursing skills are important, the ability to have compassion and empathy enables us to care for patients as if they are one of our own family members. Patience is also important when caring for patients who may have constant needs. Therapeutic communication is vital because you need to be a good listener and be able to offer solace and consolation when necessary to help patients and families cope with their end of life journey.