Our Stories
Eric Plaza, RN
Our Stories: Calvary Nurses
Our Stories: Social Workers
Eric Plaza, RN, Calvary Outreach Department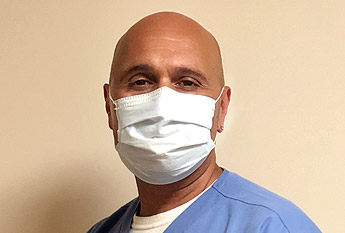 "While it can be an emotional and challenging experience, providing quality care for end of life patients is of the utmost importance. It is a profession I truly embrace."
Q: What inspired you to become a nurse?
A: Believe it or not, I was inspired to become a nurse when I was just a very young child of 7 years old. My grandma was very sick with cancer and diabetes and I would help her with her insulin injections. My grandma used to say I had hands that heal, and someday I would take care of many people. This impactful experience laid the foundation for me to become a nurse.
Q: What brought you to Calvary?
A: After working at a city hospital for 18 years, I felt it was time for a change. A colleague who was working at Calvary per diem suggested I interview here. That was 15 years ago! I instantly fell in love with the environment and the people who work here. I knew this would be my new home. After all these years, I am still grateful to work at the best hospital for palliative care.
Q: Why did you decide to work with patients at end of life?
A: Prior to working at Calvary, I had never cared for end of life patients. However, I find it to be very rewarding. While it can be an emotional and challenging experience, providing quality care for end of life patients is of the utmost importance. It is a profession I truly embrace.
Q: What are the various ways that you have worked for us as a nurse?
A: I have worked several positions here at Calvary. I started as a unit RN and then became the Charge Nurse on the floor. Currently, I am an outreach nurse. I also work per diem on the units and hospice for inpatient admissions. Additionally, I was asked to work on different floors during the Covid-19 pandemic. I am fortunate to have been able to work as a nurse at Calvary in such versatile ways.
Being fluent in Spanish has also helped me connect more effectively with patients and families. People open up to you more easily and are more comfortable when they are able to speak with you in their native language.
Q: Describe a memorable experience you had with a patient or a family member at Calvary.
A: I have had so many memorable experiences here at Calvary. One that stands out occurred several years ago. I was caring for an older woman who was dying from cancer. I used to call her "Lady" because she always acted like a perfect lady even though she felt so sick. Her daughter, who was a doctor, stopped visiting her because she could not handle seeing how much her mom had deteriorated.
After "Lady" passed, her daughter asked to hold my hand as we approached her mom's room. I did everything I could to be there for her during this difficult time. Several weeks later, I received a beautiful heartfelt letter from "Lady's" daughter thanking me for the care I showed to her and her mother. I still have the letter to this day.
What qualities are essential to being a Calvary nurse?
A: Calvary nurses possess many qualities. First, it is essential to know yourself and how much you can deal with the passing of the patients you care for. With that being said, you must be resilient and strong. You must also be compassionate, loving, empathetic, and patient. Being the person your patients and their families can depend on is special to me. Most importantly, Calvary nurses must be positive! It is very important to keep patients uplifted in their time of need. I am proud to be a Calvary nurse!